January 25, 2023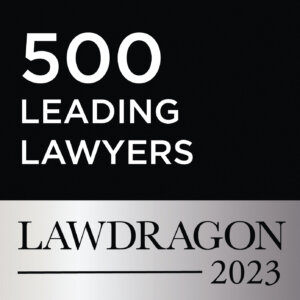 Lawdragon has named six Brown, Goldstein & Levy attorneys as 2023 500 Leading Lawyers in America recipients: Gregory Care, Kobie Flowers, Andy Freeman, Eve Hill, Sharon Krevor-Weisbaum, and Andrew Levy.
Partner Gregory Care was recognized for his practice in disability rights. As a part of his wide-ranging practices across a diverse array of civil litigation and appeals, Greg works to achieve the equality that the law promises. He has enforced the rights of persons with disabilities in cutting-edge litigation and negotiations.
Partner Kobie Flowers was recognized for his litigation, civil rights, and white-collar practices. With over 20 years of courtroom experience, Kobie typically represents high-profile clients in high-stakes criminal investigations, civil litigation, internal investigations, or trials. Kobie represents the wrongly accused and the wrongly convicted as he works to end 50 years of mass incarceration and over 150 years of police brutality.
Partner Andy Freeman was recognized for his litigation and civil rights practices. Andy has won numerous verdicts, judgments, and settlements of millions, tens of millions, and in one case over a billion dollars by mastering the relevant law and getting to know his clients, their problems, and the evidence in their cases.
Partner Eve Hill was recognized for her practice in disability rights. Eve is one of the country's leading civil rights attorneys, with wide-ranging experience in high-impact disability rights cases and advocacy on behalf of individuals with disabilities and their families.
Managing partner Sharon Krevor-Weisbaum was recognized for her practices in civil rights and disability rights. Sharon is recognized as a trusted advisor willing to share her extensive experience, knowledge of the law, passion, and sense of justice openly and freely. She strives to develop deep client-lawyer relationships that emphasize the unique voice and needs of each of her clients.
Partner Andrew Levy was recognized for his litigation and appellate practices. He is widely regarded as one of Maryland's premier trial and appellate lawyers, equally comfortable in civil and criminal courtrooms, before a jury, judge, or arbitrator. He is a fellow of both the American College of Trial Lawyers and the American Academy of Appellate Lawyers, one of the few lawyers in the country to have been inducted as a fellow of both organizations.
The Lawdragon selection process is highly competitive, performed by a team of professionals with over 100 combined years of lawyer reporting and information business. To make their selections, the Lawdragon team researches which lawyers and practices have made significant impacts on their field and which lawyers are consistently turned to as preeminent voices for important legal matters. Lawdragon accepts thousands of submissions per guide, and each candidate is independently considered.
Selection for the annual Lawdragon Leading Lawyers requires a lawyer to have shown outstanding skills for at least 15 years in practice. Virtually all selected lawyers are partners in their law practice or hold a designation that indicates the regard of those with whom they practice.
Congratulations to our Leading Lawyers! Read the full list of recognized attorneys here.