December 8, 2021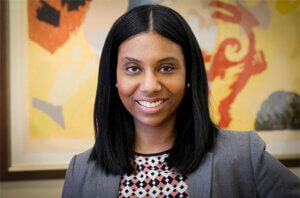 Chelsea Crawford, Associate at Brown, Goldstein & Levy, LLP, was recognized as a Best Lawyers: Ones to Watch for Civil Rights Law, Criminal Defense – General Practice and Litigation – Labor and Employment for 2022. Inclusion in this list is reserved for extraordinary attorneys who exhibit outstanding professional excellence and have been in private practice for less than 10 years in the United States.
Chelsea joined Brown Goldstein & Levy in September 2015 and has maintained a diverse and active civil rights practice, including substantial work in wrongful conviction, police misconduct, and disability rights cases. In 2021, she obtained a $6.5 million settlement on behalf of the family of Eric Sopp, an unarmed man in distress who was shot and killed by a Baltimore County police officer. It was one of the largest settlements in Maryland and Baltimore County history. In 2020, she helped obtain nearly $8 million for two men wrongfully convicted and imprisoned after law enforcement officers planted drugs in their car. In 2018, she was part of a team that obtained $9 million on behalf of a man wrongfully convicted and imprisoned for 21 years after Baltimore homicide detectives concealed exculpatory evidence.
Chelsea was recognized as a 2018 Super Lawyers Maryland Rising Star — an honor reserved for only 2.5 percent of Maryland attorneys each year. Chelsea is also active in several bar associations and organizations. She is Co-Chair of the Judicial Nominating Committee for the Alliance of Black Women Attorneys of Maryland, Leadership Committee member of the Maryland Volunteer Lawyers Service's Community Advocacy Network, and member of the My Sister's Place Women's Center Leadership Council. She has also served in leadership roles with the Monumental City Bar Association, the oldest and largest specialty bar association in Baltimore City, and the Maryland State Bar Association's Young Lawyers Section.
Chelsea is one of five Brown, Goldstein & Levy attorneys named to the Best Lawyers: Ones to Watch list for 2022. Other honorees are Kevin Docherty and Monica Basche. Three BGL attorneys also were recognized as a 2022 Lawyer of the Year and fourteen were named to the Best Lawyers in America list for 2022.
Best Lawyers is widely regarded – by both the profession and the public – as the nation's most credible measure of legal integrity and distinction. As such, recognition by Best Lawyers symbolizes excellence in practice. Inclusion in Best Lawyers is based on a peer-review survey of more than 8.2 million confidential evaluations by lawyers recognized as the best in their fields. In other words, the best lawyers know who the best lawyers are.
Founded in 1982, Brown, Goldstein & Levy is a 20-lawyer law firm based in Baltimore, Maryland, with an office in Washington, DC. The firm is nationally recognized in a wide variety of practice areas, including complex civil and commercial litigation, civil rights, health care, family law, and criminal defense. Above all else, Brown, Goldstein & Levy is a client-centered law firm and has decades of experience bringing passionate, effective advocacy to your fight for justice.