October 23, 2023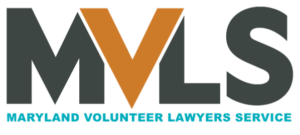 Brown, Goldstein & Levy was honored to receive the Appellate Advocacy Award at the 2023 Maryland Volunteer Law Service (MVLS) Celebrate Pro Bono Awards Ceremony, held on October 17th at the Reginald F. Lewis Museum in Baltimore. Managing partner Sharon Krevor-Weisbaum, partner Chelsea Crawford, and attorneys Monica Basche and Anthony May, who serves as a member of the MVLS Board of Directors, attended the event. BGL was a proud sponsor, helping MVLS bring together over 200 attorneys, judges, and other professionals to celebrate those who have demonstrated a commitment to pro bono service.
BGL received the Appellate Advocacy Award for its tireless efforts to preserve the validity of pro bono legal services across the State. BGL, led by Anthony, represented a coalition of Maryland legal services organizations in an amicus brief in Avery v. Avery in the Appellate Court of Maryland addressing a trial court ruling ordering an individual who qualified for pro bono legal services, and who had won at trial, to pay the opposing side's fees. On behalf of the coalition of legal services organizations, Anthony argued that that order must be reversed because, among other things, it would penalize individuals who can't afford their own attorneys by requiring them to pay for opposing counsel and conflict with the judiciary's commitment to pro bono. Anthony accepted the award on BGL's behalf.
"True justice relies on access to high quality legal services by for all people, regardless of socioeconomic status. If we are to truly commit ourselves to the pursuit of social justice and equity, we must also commit to providing pro bono services as a fundamental part of our practice," Anthony said. "I am fortunate to be part of a law firm that not only supports my work as a member of the MVLS Board, but remains dedicated to maintaining its own robust pro bono initiatives."
Monica was also recognized for her commitment to pro bono services by volunteering with MVLS on over 10 cases over the past year.
The ceremony honored the legacy of the late Donald "Don" McPherson III, a retired real estate financing attorney who did exemplary pro bono work, volunteering thousands of hours representing indigent clients.
MVLS assists Marylanders facing legal challenges, while also fighting to change systems that harm people living in or near poverty. MVLS accomplishes this through pro bono representation, community engagement, and legislative and administrative advocacy. MVLS's volunteer attorneys and tax professionals help indigent clients resolve their civil cases. MVLS staff attorneys build on that impact by fostering meaningful community partnerships and identifying specific inequities that are borne out in their clients' stories and in the legal system at large.
The attorneys at BGL have a longstanding commitment to providing pro bono services to communities throughout Maryland. We devote hundreds of hours per year to high-quality legal representation at no cost. As a firm committed to the pursuit of social justice and equity, maintaining a robust pro bono practice is one way that we are closing the gap between those who can afford a lawyer and those who cannot. Our pro bono practice is diverse and represents the unique interests and skills of our attorneys and staff. Learn more here.
Founded in 1982, Brown, Goldstein & Levy is a law firm based in Baltimore, Maryland, with an office in Washington, DC. The firm is nationally recognized in a wide variety of practice areas, including complex civil and commercial litigation, civil rights, health care, family law, and criminal defense. Above all else, Brown, Goldstein & Levy is a client-centered law firm that brings decades of experience and passionate, effective advocacy to your fight for justice.