May 5, 2023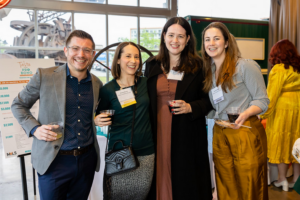 Four Brown, Goldstein & Levy attorneys attended Maryland Volunteer Lawyers Service's 2023 A Taste for Pro Bono. Monica Basche, Chelsea Crawford, Lauren Kelleher, and Anthony May attended the event, hosted on April 27 at the Baltimore Museum of Industry, which is MVLS's biggest annual fundraiser and provides an opportunity for pro bono lawyers and supporters to raise money to support free civil legal help, volunteer for cases, and provide a space for community engagement and discussion about advocacy for more equitable laws.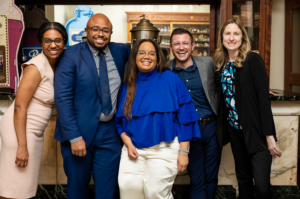 BGL sponsored the event as proud supporters of MVLS's mission to provide free, high-quality legal representation to low-income Marylanders. We continue to work with MVLS to assist individuals in need of legal representation, as well as having our attorneys participate as members of the MVLS Board of Directors and on various committees. Anthony May currently serves on MVLS's Board of Directors, and Anthony and Chelsea Crawford serve on the Leadership Committee for MVLS Community Advocacy Network (MVLS CAN)—a group created in 2018 to inspire and engage attorneys, law students, and tax professionals who are in the first 10 years of their careers to learn the value of pro bono and become committed to creating a more equitable legal system. Monica Basche volunteers with MVLS at the Consumer Protection Project clinic that provides that helps individuals defend, settle, and negotiate common types of debt collection cases in Baltimore City District Court.
The attorneys at BGL have a longstanding commitment to providing pro bono services to communities throughout Maryland. We devote hundreds of hours per year to high-quality legal representation at no cost. As a firm committed to the pursuit of social justice and equity, maintaining a robust pro bono practice is one way that we are closing the gap between those who can afford a lawyer and those who cannot. Our pro bono practice is diverse and represents the unique interests and skills of our attorneys and staff.
ABOUT MONICA BASCHE
Monica Basche joined Brown Goldstein & Levy in September 2019. She represents clients in civil rights cases, including disability rights, housing discrimination, employment discrimination, and prisoners' rights. Monica also has experience with commercial litigation and business disputes. Read more about Monica here.
ABOUT CHELSEA CRAWFORD
Chelsea Crawford joined Brown Goldstein & Levy in September 2015 and has a diverse civil rights practice, including substantial work in wrongful conviction, police misconduct, and disability rights cases. She has worked on some of the largest wrongful conviction and police misconduct cases in the State of Maryland. Read more about Chelsea here.
ABOUT LAUREN KELLEHER
Lauren Kelleher joined Brown, Goldstein & Levy in February 2022.  Before joining the firm, she investigated and litigated against pharmaceutical companies for their role in the opioid epidemic, including work on the Purdue bankruptcy. She also has experience representing individuals and groups of plaintiffs in workplace discrimination and harassment cases as well as consumers in products and financial services litigation. Read more about Lauren here.
ABOUT ANTHONY MAY
Anthony J. May has represented clients in a variety of complex litigation matters including assisting employees with disabilities in obtaining accessible technology and accommodations in the workplace, representing individuals who have been wrongfully convicted, commercial litigation disputes, and fighting workplace discrimination based on sexual orientation. Read more about Anthony here.
Founded in 1982, Brown, Goldstein & Levy is a 20-lawyer law firm based in Baltimore, Maryland, with an office in Washington, DC. The firm is nationally recognized in a wide variety of practice areas, including complex civil and commercial litigation, civil rights, health care, family law, and criminal defense. Above all else, Brown, Goldstein & Levy is a client-centered law firm and has decades of experience bringing passionate, effective advocacy to your fight for justice.