May 12, 2023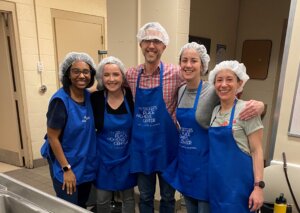 A team of five Brown, Goldstein & Levy professionals volunteered at My Sister's Place Women's Center in Baltimore on Wednesday, May 10. The BGL team staffed the dinner meal service and helped prepare food, serve guests, and clean tables. The volunteers included attorneys Monica Basche, Chelsea Crawford, Lauren Kelleher, and Jamie Strawbridge, and Marketing Coordinator, Andi McIver.
My Sister's Place is a day shelter and resource center for women and children experiencing homelessness and poverty in Baltimore that serves lunch and dinner daily for its patrons. My Sister's Place offers many services, including extensive workshops based around the eight realms of wellness: emotional, spiritual, intellectual, physical, environmental, financial, occupational, and social wellness. Chelsea, a partner at BGL, joined My Sister's Place Leadership Council in 2021, where she serves as an ambassador for the center and its programming.
For nearly four decades, BGL attorneys have worked within the Baltimore community through volunteer work, pro bono service, and board memberships. Many of our attorneys serve on boards and community organizations, including the Gay Men's Chorus of Washington, the Homeless Persons Representation Project, the American Civil Liberties Union (ACLU) of Maryland, and Maryland CASA Association. BGL attorneys hold or have recently held leadership positions at a wide variety of non-profit organizations, including the Baltimore Regional Housing Partnership, Disability Rights Maryland, the Family League of Baltimore City, FreeState Justice, Maryland Legal Aid's Equal Justice Council, and the Public Justice Center.
Learn more about our attorneys and their litigation practices here.