November 2, 2023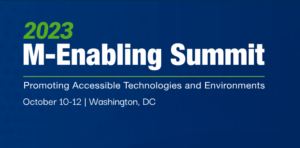 Brown, Goldstein & Levy attorneys Eve Hill, Anthony May, and Jamie Strawbridge attended the 2023 M-Enabling Summit as champions of digital accessibility and inclusivity for individuals with disabilities. The event is a leading all-inclusive conference and showcase dedicated to fostering innovations, solutions, and strategies for digital inclusion.
The 11th annual conference took place October 10-12 in Washington D.C. and centered on the theme "AI and Digital Transformation: New Paradigms for Accessibility and Inclusion Strategies." Eve served as a panelist, where she shared her insight about the anticipated impact of changing federal regulations on digital accessibility. Anthony, considered an authority in the growing intersection of AI and employment discrimination law, strengthened connections with fellow AI attorneys and advocates from various industries and learned more about the AI landscape. Jamie, who consults with Inclusivity Strategic Consulting – BGL's strategic consulting group, which is led by Eve and works with organizations to promote the education, engagement, and employment of people with disabilities – learned more about evolving legislation and new technologies working to change lives to help clients meet accessibility objectives.
All three attorneys greatly benefited from collaborating with and learning from other lawyers, thought leaders, and innovators that serve more than one billion individuals with disabilities and an expanding aging population globally.
Founded in 1982, Brown, Goldstein & Levy is a law firm based in Baltimore, Maryland, with an office in Washington, D.C. The firm is nationally recognized in a wide variety of practice areas, including complex civil and commercial litigation, civil rights, health care, family law, and criminal defense. Above all else, Brown, Goldstein & Levy is a client-centered law firm that brings decades of experience and passionate, effective advocacy to your fight for justice.