June 2, 2023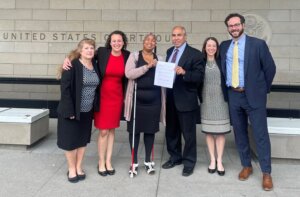 Brown, Goldstein & Levy attorneys Jessie Weber, Kevin Docherty, Monica Basche, and Sharon Krevor-Weisbaum have secured a major victory with the help of the National Federation of the Blind (NFB) and NFB of California on behalf of two blind students, Portia Mason and Roy Payan, who were deprived an equal educational opportunity, in violation of the Americans with Disabilities Act (ADA), by the Los Angeles Community College District (LACCD) – the largest community college system in the nation.
A jury found that LACCD violated the ADA in 14 different ways and, in most cases, did so with deliberate indifference. The jury awarded the plaintiffs over $240,000 in damages. Many blind students and advocates attended the trial in support. While attending LACCD between 2015 and 2018, Ms. Mason and Mr. Payan experienced accessibility barriers in all aspects of their education: they were shut out of the school's websites, course materials, web-based learning platforms, library resources, and more. Professors even told Mr. Payan that he could not stay in their classes because he is blind.
Ms. Mason, Mr. Payan, the NFB, and the NFB of California—represented by Brown, Goldstein & Levy and Patricia Barbosa—filed this lawsuit in 2017 and won two trials in 2019, which LACCD appealed. In 2021, Ninth Circuit Court of Appeals rejected the college's appeal, ruling that individuals with disabilities have the right to sue schools and colleges over policies and practices that have a discriminatory effect, regardless of whether discrimination was intentional. The Ninth Circuit then remanded the case for a retrial so that all issues could be decided by a jury.
"We are grateful that the jury held LACCD accountable for failing to provide an equal educational opportunity to blind students," said BGL partner Jessie Weber. "We hope other institutions of higher learning will take heed: failing to ensure accessibility — including by maintaining inaccessible websites and educational resources—is unlawful discrimination."
Mark Riccobono, President of the National Federation of the Blind, said: "The National Federation of the Blind is committed to working collaboratively with educational institutions to help them create an accessible and inclusive environment. At the same time, we will fight for as long as it takes to vindicate the rights of blind students in court when institutions are unwilling to take advantage of available resources and the lived experience of blind people to guide them in meeting their legal and moral obligations. We thank the jurors in this case for recognizing the harm that was done to these students, and we are proud to have supported their fight for justice. It is long past time for institutions of higher education to lead the way in collaboration with the disability community rather than to perpetuate the history of low expectations that hold blind students back."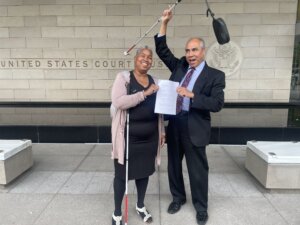 "This moment has been a long time in coming, and I am so grateful to the supporters and to the legal team that have brought us here," said Portia Mason. "I know that this team will continue to put its best efforts behind our cause in any further proceedings."
"My grateful thanks for an amazing legal team from Brown Goldstein & Levy and Patricia Barbosa from the Barbosa Group," said Roy Payan. "This win is not so much a win just for Portia and me, but for all those students who will continue to come after us who may be too afraid, timid, or intimidated by threats from the institutions to advocate for themselves. We follow in the footsteps of Robert F. Kennedy when he said, 'There are those who look at things the way they are and ask why. I dream of things that never were, and ask why not?' I see a world where I won't have to beg for the accommodations I deserve, where I am provided the freedom of independence all others enjoy."
The court has now set a status conference for June 20 to begin the next phase of determining the changes it will order LACCD to implement to ensure its compliance with the ADA going forward.
ABOUT JESSIE WEBER
Jessie Weber enjoys helping clients navigate a diverse range of difficult legal issues, with a focus on civil rights, including disability and LGBTQ rights, employment law, including wage and hour cases, and appellate litigation. Jessie's successes include obtaining a $1.25 million settlement for a class of Baltimore City school bus drivers and attendants wrongly denied their full pay and securing an injunction requiring the Maryland Board of Elections to make absentee voting accessible to voters with print disabilities. Learn more about Jessie here.
ABOUT KEVIN DOCHERTY
Kevin Docherty maintains a diverse practice representing individuals in civil rights litigation, employment disputes, and personal injury matters. He also counsels and represents businesses and businesspeople in ownership disputes, breach of contract actions, and other commercial litigation. In addition to his civil practice, Kevin represents individuals in federal and state criminal prosecutions and investigations. Learn more about Kevin here.
ABOUT MONICA BASCHE
Monica Basche joined Brown Goldstein & Levy in September 2019. She represents clients in civil rights cases, including disability rights, housing discrimination, employment discrimination, and prisoners' rights. Monica also has experience with commercial litigation and business disputes. Learn more about Monica here.
ABOUT SHARON KREVOR-WEISBAUM
Sharon Krevor-Weisbaum takes great pride in her role as Managing Partner of Brown, Goldstein & Levy while continuing her active practice on behalf of a varied client base. Clients and colleagues alike recognize Sharon as a trusted advisor willing to share her extensive experience, knowledge of the law, passion, and sense of justice openly and freely. She strives to develop deep client-lawyer relationships that emphasize the unique voice and needs of each one of her clients. Read more about Sharon here.
Founded in 1982, Brown, Goldstein & Levy is a law firm based in Baltimore, Maryland, with an office in Washington, DC. The firm is nationally recognized in a wide variety of practice areas, including complex civil and commercial litigation, civil rights, health care, family law, and criminal defense. Above all else, Brown, Goldstein & Levy is a client-centered law firm that brings decades of experience and passionate, effective advocacy to your fight for justice.
PLEASE FIND MEDIA COVERAGE BELOW 
9th Circuit orders do-over in ADA case against college system | Reuters (August 24, 2021)
Protests intensify as disability rights case nears deadline for Supreme Court petition | Los Angeles Times (March 2, 2022)
Community college district won't take disability case to Supreme Court following protests | Los Angeles Times (March 3, 2022)
District votes to stop U.S. Supreme Court petition in Payan v. LACCD | The Valley Star News (March 7, 2022)
Talks end, LACCD disability rights lawsuit returns to appeals court | Los Angeleno (September 12, 2022)
Settlement agreement talks continue in college disability rights case | Spectrum News 1 (April 6, 2022)
LA Community College District won't appeal ruling that it failed to accommodate blind students | LAist (March 4, 2022)
LA college district decides to settle case involving rights of blind students | EdSource (March 3, 2022)
Kincart: Unintentional Discrimination is Discrimination | The Daily Utah Chronicle (March 24, 2022)
Lawsuit addressing failures to provide course materials to college students with disabilities may head to Supreme Court | Accessibility.com (January 10, 2022)
'Unintentional discrimination' at the heart of disability lawsuit against California community college district | EdSource (December 30, 2021)
The Los Angeles Community College District is appealing a court decision involving blind students and allegations of discrimination | Legal Reader (December 30, 2021)