December 10, 2021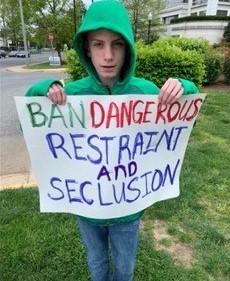 A team of Brown, Goldstein & Levy ("BGL") attorneys has reached a groundbreaking settlement in a disability rights case against Fairfax County Public Schools ("FCPS"). BGL, along with co-counsel at Fluet Huber + Hoang, PLLC, filed the lawsuit in October 2019 on behalf of six students with disabilities, the Council of Parent Attorneys and Advocates (COPAA), Autistic Self Advocacy Network (ASAN), and CommunicationFIRST. The plaintiffs alleged that FCPS's improper use of physical restraints and seclusion in cell-like rooms on students with disabilities—some as young as five years old—was discriminatory and caused ongoing trauma and physical harm.
According to the judicially enforceable agreement and consent decree FCPS is now required to ban seclusion in all but two schools by January 1, 2022, and in all schools, including private schools that contract with FCPS, by the start of the next school year. The agreement prohibits the use of the most dangerous types of restraint (such as mechanical, chemical, prone, supine, and chokehold restraints) in all FCPS public schools and private placements. Use of other types of physical restraint is now sharply curtailed to emergency situations where there is an imminent risk of serious physical harm and can only be performed by trained staff. In addition, FCPS must ensure that students who require assistive communication devices or sign language to communicate have their hands free during restraint, unless it is not feasible in light of the threat posed. All use of physical restraint is prohibited where a student provides appropriate documentation that it is medically or psychologically contraindicated for them.
Under the terms of the agreement, FCPS will also be engaging Dr. Ross Greene, a widely-respected child psychologist and education expert, to help it evaluate and improve upon methods for positive behavioral interventions and supports programs, staff training, and implementation of new FCPS policy regarding physical restraint and seclusion throughout the district. FCPS will provide quarterly public reports on Dr. Greene's recommendations and will appropriately document and provide data on all acts of restraint and seclusion.
BGL attorneys Jessie Weber, Eve Hill, Sharon Krevor-Weisbaum, and Anthony May represented the plaintiffs in this case, along with former BGL attorneys Gina Kline and Abigail Graber. Paralegals Samantha Duckworth and Angela Lima also assisted.
Brown, Goldstein & Levy is honored to have represented the plaintiffs in this case and is proud to have helped secure an outcome that will benefit the entire FCPS community and serve as a model for other school districts looking to foster a positive learning experience for all students by eliminating the use of restraint and seclusion.
Please find additional coverage here:
ASAN joins COPAA, Communication First and families in settlement banning restraint and seclusion in Fairfax County Schools | Autistic Self Advocacy Network; November 23, 2021
Fairfax schools settle lawsuit, ban harmful practices for students with disabilities | The Washington Post; Nov. 24, 2021
Restraint and seclusion litigation against Fairfax County Public Schools Resolved | CommunicationFirst; Nov. 24, 2021
About Jessie Weber

Jessie Weber enjoys helping clients navigate a diverse range of difficult legal issues, with a focus on civil rights, including disability and LGBTQ rights, employment law, including wage and hour cases, and appellate litigation. Jessie's successes include obtaining a $1.25 million settlement for a class of Baltimore City school bus drivers and attendants wrongly denied their full pay, securing an injunction requiring the Maryland Board of Elections to make absentee voting accessible to voters with print disabilities, and winning an arbitration award of more than $250,000 on behalf of an African American former Hooters server who was fired from her job because of Hooters' racially discriminatory image policy.
About Brown Goldstein & Levy, LLP
Founded in 1982, Brown, Goldstein & Levy is a 20-lawyer law firm based in Baltimore, Maryland, with an office in Washington, DC. The firm maintains national recognition in a wide variety of practice areas, including complex civil and commercial litigation, civil rights, health care, family law, and criminal defense.  Above all else, Brown, Goldstein & Levy is a client-centered law firm and has decades of experience bringing passionate, effective advocacy to your fight for justice.