May 18, 2023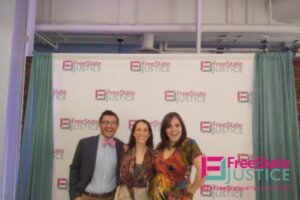 Brown, Goldstein & Levy attorneys Monica Basche, Lauren DiMartino, and Anthony May attended the FreeState Justice Sunset Soirée, a pre-Pride celebration hosted on Friday, May 12 at Baltimore's American Visionary Art Museum.
The BGL team had a wonderful time reconnecting with other civil rights attorneys, advocates, and allies at the event, which served as a fundraiser to provide a fun space for community-building for Maryland's LGBTQIA+ community.
FreeState Justice is the only statewide LGBTQIA+ advocacy organization that provides both legal services and policy advocacy to serve the needs of Marylanders. BGL is committed to advancing LGBTQIA+ rights – a mission that extends beyond our work as litigators. We have partnered with FreeState Justice to provide pro bono representation to transgender individuals seeking name changes and decrees of legal gender identity. We were proud to work with FreeState Justice to secure asylum for two gay men from Central America fleeing persecution. Brown, Goldstein & Levy has also partnered with FreeState Justice on several employment and health care discrimination cases. Recently, Lauren and Anthony obtained a federal district court victory on behalf of a married gay employee who challenged Catholic Relief Services' withdrawal of health insurance benefits for his husband under Title VII of the Civil Rights Act, the Equal Pay Act, and the Maryland Equal Pay Act.
Monica Basche represents clients in civil rights cases, including disability rights, housing discrimination, employment discrimination, and prisoners' rights. Monica also has experience with commercial litigation and business disputes. Read more about Monica here.
Lauren A. DiMartino represents clients across various areas of civil rights law, including fair housing, education and disability rights, police misconduct, and workplace discrimination. Her practice also includes appeals, commercial litigation, and criminal defense. Read more about Lauren here.
Anthony J. May has represented clients in a variety of complex litigation matters including artificial intelligence, assisting employees with disabilities in obtaining accessible technology and accommodations in the workplace, representing individuals who have been wrongfully convicted, commercial litigation disputes, and fighting workplace discrimination based on sexual orientation. Read more about Anthony here.
Founded in 1982, Brown, Goldstein & Levy is a law firm based in Baltimore, Maryland, with an office in Washington, DC. The firm is nationally recognized in a wide variety of practice areas, including complex civil and commercial litigation, civil rights, health care, family law, and criminal defense. Above all else, Brown, Goldstein & Levy is a client-centered law firm that brings decades of experience and passionate, effective advocacy to your fight for justice.