March 28, 2023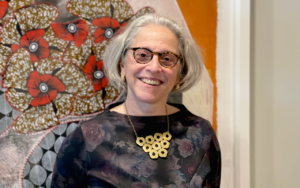 Sharon Krevor-Weisbaum co-presented a training on March 27, where she taught attendees about vital civil rights protections for individuals with opioid use disorder using medication assisted treatments. The collaborative training program is the second Sharon has led in partnership with the Baltimore County Department of Health on this topic. A large audience comprised of case workers, providers, and other professionals who support individuals in treatment participated.
Sharon again presented alongside Martine Jean-Baptiste, Baltimore County Human Services Program Manager. They discussed the scope of the opioid epidemic in the Baltimore region and how the law protects individuals with Opioid Use Disorder.
Sharon Krevor-Weisbaum takes great pride in her role as Managing Partner of Brown, Goldstein & Levy while continuing her active practice on behalf of a varied client base. Clients and colleagues alike recognize Sharon as a trusted advisor willing to share her extensive experience, knowledge of the law, passion, and sense of justice openly and freely. She strives to develop deep client-lawyer relationships that emphasize the unique voice and needs of each one of her clients. Learn more about Sharon Krevor-Weisbaum here.
Founded in 1982, Brown, Goldstein & Levy is a 20-lawyer law firm based in Baltimore, Maryland, with an office in Washington, DC. The firm is nationally recognized in a wide variety of practice areas, including complex civil and commercial litigation, civil rights, health care, family law, and criminal defense. Above all else, Brown, Goldstein & Levy is a client-centered law firm and has decades of experience bringing passionate, effective advocacy to your fight for justice.
RELEVANT BLOGS
Drugs & Discrimination: Ensuring legal protection for people relying on Medication-Assisted Treatment for opioid addiction.
Drugs & Discrimination, Part II: New questions about civil rights protections as cannabis use is increasingly legalized.
Drugs & Discrimination, Part III: Discrimination and criminalization in medical care for people with substance use disorders.