January 4, 2023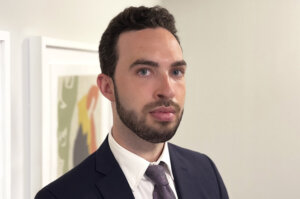 By Michael Abrams
Cristina Barbuto suffered from Crohn's disease, an autoimmune disease that can cause severe pain and debilitating gastrointestinal symptoms. (Barbuto v. Advantage Sales & Mktg., LLC, 477 Mass. 456, 458 (2017)). This condition often left Cristina with no appetite and underweight. Eventually, her physician certified her for medical cannabis treatment under Massachusetts state law. Cristina found that using medical cannabis in small quantities two or three evenings per week, in the privacy of her own home, helped manage her symptoms.
Around the same time, Cristina accepted a job offer for an entry-level sales position and learned that she would have to take a drug test. Cristina told her supervisor-to-be about her Crohn's disease and her doctor-recommended treatment, explaining that her drug test would reflect positive results for cannabis. Cristina's supervisor reassured her that lawful medical use "should not be a problem."
Cristina submitted her drug test, attended orientation, and even worked her first day. Then she heard from HR: she was being fired for a positive drug test result. Despite her supervisor's guidance, HR explained that any medical purpose was irrelevant because "we follow federal law, not state law." Cannabis, of course, remains a Schedule I narcotic under federal law, meaning its use is a federal crime and it supposedly has no medical value. Other federal rules, like the Drug-Free Workplace Act, or certain provisions of the Americans with Disabilities Act about illegal conduct, have also served to bar state protections.
Stories like Cristina's are shared by too many workers across the country. Ordinary working people seek relief from various medical conditions and turn to medical cannabis on a doctor's recommendation. They intend to follow the law and, understandably, believe their state medical cards will protect them. Then, they are surprised to end up facing humiliating sanctions. Not only are medical cannabis patients often fired, but they may also be found ineligible for unemployment payments or other public benefits, face eviction from their homes, or have their parental rights threatened.
Fortunately, Cristina's case gave rise to a landmark decision from Massachusetts' highest court, which concluded that state disability protections can require employers to reasonably accommodate medical cannabis use. Unfortunately, many state courts have concluded the opposite. Ultimately, much of the law about discrimination protections for medical cannabis users is adverse, but the recent trend favors protection.
Medical cannabis users are increasingly protected from disability discrimination.
All sorts of legal issues are raised by the state-by-state approach to cannabis law under the shadow of federal prohibition. Though the federal government has adopted enforcement détentes, ostensibly allowing the states to serve as "laboratories of democracy," some courts have still concluded that federal drug laws "preempt" state protections for medical cannabis users. Other courts have concluded that federally illegal conduct cannot support disability discrimination claims. Until recently, the dominant trend has been that medical cannabis users are left unprotected by state anti-discrimination law.
That trend may be shifting, however. Courts are increasingly enforcing state protections for people with disabilities who happen to rely on medical cannabis.
For example, since Massachusetts's Barbuto decision, New Jersey courts upheld a medical cannabis user's disability discrimination claim. Justin Wild, a funeral director, was diagnosed with cancer and prescribed medical cannabis by his doctor. One day, while driving for work, Justin was struck by a vehicle that ran a stop sign and was taken to the hospital. His employer required a drug test before Justin could return to work, and Justin disclosed his medical cannabis use for pain associated with cancer treatment. He was ultimately fired as a result, with his employer claiming the termination was not because of cannabis use per se, but because Justin failed to disclose his use of a potentially impairing medication.
New Jersey's appellate courts affirmed that Justin could proceed with a discrimination claim against his employer. They concluded that the state's anti-discrimination law applied, and they rejected the employer's argument that medical cannabis use can never support a disability discrimination claim because of its intoxicating effects. In 2021, New Jersey's high court followed up with a decision holding that federal prohibition does not block workers who get injured on the job—and who happen to be medical cannabis patients—from receiving workers' compensation payments.
Similar decisions to the Wild case have been reached in Arizona, Connecticut, and Rhode Island, thanks, in part, to state legislatures expressly declaring their intent that medical cannabis patients receive discrimination protection. Other states have followed suit with legislative fixes. For example, in 2008, California's Supreme Court had held that employers could refuse to hire employees who failed drug tests regardless of their lawful use of medical cannabis. This fall, however, California enacted a new law providing that employers cannot discriminate based on "use of cannabis off the job and away from the workplace" or "employer-required drug screening" that detects cannabis metabolites (which can remain in a user's system long after any intoxicating effect). Nevada, Montana, and New York have adopted similar laws, in addition to the states listed above with positive court decisions.
In many states, including Maryland, these issues remain largely untested.  As one example of the positive trend, however: in March 2021, the Maryland State Bar Association's Committee on Ethics issued a formal opinion that attorneys do not violate their ethics obligations by using medical cannabis in compliance with Maryland law. Despite its federal illegality, the opinion concluded that such conduct does not "reflect[] on an attorney's honesty, trustworthiness, or fitness as an attorney."
Whether similar interpretations extend more broadly will depend on courageous workers and patients who are discriminated against standing up for their rights and convincing courts to recognize their protection from discrimination based on disability.
***
As discussed in the last post in this series, federal civil rights authorities have acknowledged, in the opioid context, that "discrimination on the basis of treatment is discrimination on the basis of disability." That same principle must be applied in the cannabis context as well to protect people with disabilities who rely on a doctor's advice and seek lawful care.
The Biden Administration recently took executive action to address some of the most punitive aspects of federal cannabis prohibition. President Biden pardoned some federal cannabis possession offenses and urged state governors to do the same. While relief from criminal sanctions is essential, it will not prevent the various civil penalties that patients who rely on medical cannabis can face.
Crucially, however, President Biden also urged federal action to reevaluate the classification of cannabis as a Schedule I narcotic. Such a change would hugely reduce the conflict between federal and state law, potentially affording people with disabilities greater protection from legal sanctions for their treatment with legal cannabis.
The attorneys at Brown, Goldstein & Levy have experience assisting clients who face discrimination because of their disabilities or related treatment. We assist such clients as part of our nationwide disability rights practice, which strives to ensure that people with disabilities from California to Maryland receive the protections of the law. If you have faced discrimination because of a disability or your choice of treatment, please call us at 410-962-1030 for a consultation today.