September 16, 2022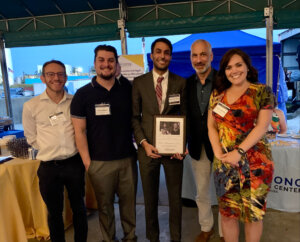 On September 15, Neel Lalchandani was presented with the 2022 Alex Fee Maryland Pro Bono Service Award at the Maryland Pro Bono Resource Center's (PBRC) 2022 Block Party, which BGL was proud to sponsor. Andy Freeman, Lauren DiMartino, Jason Harary, and Shane Doyle also attended the event to cheer Neel on and celebrate his significant accomplishment. The Alex Fee Maryland Pro Bono Service Award is granted to a member of the Young Lawyers Section of the Maryland State Bar Association (MSBA) who is making a significant pro bono contribution either directly or through a pro bono organization. Neel previously accepted his award virtually at the MSBA Legal Summit in June.
The block party was centered around the theme, "Building Communities of Justice." Neel, Andy, Lauren, Jason, and Shane had a fantastic evening gathering with like-minded members of the Maryland legal community, celebrating the pro bono advocates like Neel who help expand access to justice for low-income individuals, and advocating for stable housing and the preservation of neighborhoods in Maryland communities.
"All of us at Brown, Goldstein & Levy are very proud of Neel. His commitment to advancing justice and outstanding pro bono contributions have tremendously improved the lives of individuals across the state," said Sharon Krevor-Weisbaum, BGL managing partner. "We look forward to Neel's career continuing to grow from strength to strength."
PBRC is Maryland's hub for pro bono civil legal assistance provided by volunteers who share a core value that all individuals deserve equal access to justice. As the pro bono arm of the Maryland State Bar Association, PBRC plays a unique role as the training, support, innovation, and advocacy center for pro bono.
Similarly, involvement in our community and working to improve the lives of residents of Baltimore, the District of Columbia, and Maryland is deeply ingrained in Brown, Goldstein & Levy's DNA. For almost four decades, BGL has been recognized as Maryland's leading private law firm for high impact, public interest cases. Our attorneys have handled these challenges in the Supreme Court and most of the federal appellate circuits, as well as in state courts throughout Maryland and around the country. The Maryland State Bar Association recognized us as the Maryland Pro Bono Firm of the Year and our attorneys devote hundreds of hours a year to providing high-quality legal representation at no cost.
LEARN MORE ABOUT NEEL LALCHANDANI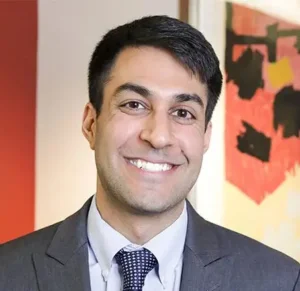 Neel Lalchandani represents individuals, nonprofits, and companies in a diverse array of civil rights and commercial matters. Among other victories for his clients, Neel has helped secure several of the largest payments in Maryland history for victims of police misconduct, including over $10 million in state compensation on behalf of innocent men imprisoned for crimes they did not commit.