October 25, 2021
The State of Maryland will award Leslie Vass, a Baltimore man wrongfully convicted of armed robbery in 1975, an additional $550,000 in compensation under the Walter Lomax Act – a new law that sets a standard compensation formula for the State's wrongfully-convicted exonerees. Brown, Goldstein & Levy Attorney Neel Lalchandani, along with Managing Partner Sharon Krevor-Weisbaum, represented Mr. Vass in this case. The award to Mr. Vass received front-page coverage in The Daily Record on Oct. 20, 2021.
Convicted as an adult at 17 years old, Mr. Vass spent more than nine years in prison between 1975 and 1984. Gov. Harry Hughes officially pardoned Mr. Vass in 1986, at which time Vass received a $250,000 compensation payment from the Maryland Board of Public Works.
Under the Walter Lomax Act, a judge determined this year that Vass was entitled to $806,787 for his wrongful incarceration. Mr. Vass will receive the remaining $556,787 in installments through July 2022, as well as additional benefits like education opportunities, access to job training, and health care.
In The Daily Record article, Neel emphasized that even though the State pardoned Mr. Vass over three decades ago, the wrongful conviction still has an ongoing negative impact on Mr. Vass' life. Just last year, for example, Mr. Vass was denied an employment opportunity due to his wrongful conviction.
"[The supplemental award to Mr. Vass] is in recognition that the first payment all those years ago wasn't sufficient or commensurate with the harm Mr. Vass suffered. It's also in recognition of the fact that a wrongful conviction has lasting effects for the rest of an individual's life," said Neel.
Mr. Vass is the second Maryland exoneree to receive a payment under the new Walter Lomax Act. Earlier this month, BGL client Kirk Bloodsworth received an additional $421,237.20 in compensation, making him the first individual to receive an award under the Act. Neel, alongside Partner Zachariasiewicz, represented Mr. Bloodsworth in his case.
Please find the full story from The Daily Record here.     
ABOUT NEEL LALCHANDANI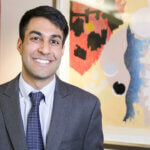 Neel Lalchandani represents individuals, nonprofits, and companies in a diverse array of civil rights and commercial matters. Among other victories for his clients, Neel has helped secure several of the largest payments in Maryland history for victims of police misconduct, including over $10 million in state compensation on behalf of innocent men imprisoned for crimes they did not commit.