December 22, 2021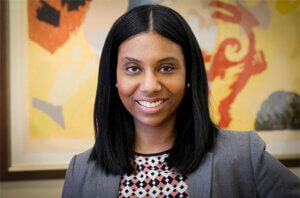 Brown, Goldstein & Levy attorney and Super Lawyers Rising Star, Chelsea Crawford, was recently featured in the 2022 Maryland Super Lawyers Magazine. The article, entitled "The Secondary Storyline," details how Chelsea's work as a rookie journalist covering crime in Philadelphia led her to pursue a career in law.
Chelsea joined Brown, Goldstein & Levy in September 2015 and has maintained a diverse and active civil rights practice, including substantial work in wrongful conviction, police misconduct, and disability rights cases. In 2021, she obtained a $6.5 million settlement on behalf of the family of Eric Sopp, an unarmed man in distress who was shot and killed by a Baltimore County police officer. It was one of the largest settlements in Maryland and Baltimore County history. In 2020, Chelsea also helped obtain nearly $8 million for two men wrongfully convicted and imprisoned after law enforcement officers planted drugs in their car. In 2018, she was part of a team that obtained $9 million on behalf of a man wrongfully convicted and imprisoned for 21 years after Baltimore homicide detectives concealed exculpatory evidence. Additionally, Chelsea is one of the attorneys advocating for justice in federal court for Alfred Chestnut, Andrew Stewart and Ransom Watkins (known as the "Harlem Park Three") for the 36 years they each served in prison for a murder they didn't commit.
Read the full Super Lawyers article by clicking here.
Learn more about Chelsea Crawford's robust civil rights practice here.