April 20, 2023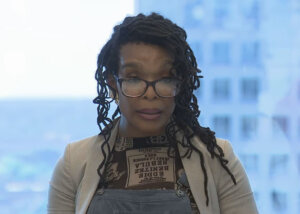 Brown, Goldstein & Levy filed a lawsuit on April 18, 2023, on behalf of Chelsea Gilliam, a transgender woman who was held pre-trial at two Maryland correctional facilities for six months. Ms. Gilliam is a transgender woman who was forced to live with male inmates while incarcerated as a pre-trial detainee in Baltimore last year. She was sexually assaulted by a fellow inmate, denied her hormone therapy, and held in solitary confinement during her incarceration. Ms. Gilliam is represented by partner Eve Hill, managing partner Sharon Krevor-Weisbaum, and disability rights fellow Evan Monod.
Ms. Gilliam was arrested for an assault and was held at the Baltimore City Correctional Center and the Maryland Reception, Diagnostic and Classification Center while awaiting trial. Both facilities refused to accept Ms. Gilliam's legally changed name and her gender identity. While at the Baltimore Jail, Ms. Gilliam was placed in a dormitory of all men for three months, from December 2021 to early February 2022. Despite her femininity and gender identity as a woman, Ms. Gilliam was forced to live and shower with male inmates. During this time, she was harassed by both officers and inmates and ultimately sexually assaulted by another inmate. The jail took no action when Ms. Gilliam reported the assault. She was also denied her hormone treatment.
In February 2022, Ms. Gilliam was moved to the MRDCC, where she was placed in segregation for her entire time in custody, solely because she is transgender. Officers shackled Ms. Gilliam by the hands, waist, and ankles each time she left her cell, even though she never violated the facility's rules. Ms. Gilliam suffered a great deal of anxiety and distress from these experiences.
The lawsuit challenged Ms. Gilliam's treatment as cruel and unusual under the 14th Amendment, as gross negligence, and as violating the Americans with Disabilities Act, based on precedent set by the October 2022 Williams v. Kincaid case that affirms gender dysphoria is a disability protected under the ADA.
"The discrimination, harassment, and assault that Ms. Gilliam has been forced to endure is despicable. Despite being made aware of Ms. Gilliam being harassed and assaulted, no action was taken to correct the conditions in which she was made to live," said BGL partner Eve Hill. "Ms. Gilliam simply asked for her equal treatment, as is required by federal law – and it was not given to her. Instead, the state imposed its own cruel and unusual punishment just because she is transgender."
"Brown, Goldstein & Levy is committed to protecting and advancing the rights of members of the LGBTQ+ community, like Ms. Gilliam," said BGL managing partner Sharon Krevor-Weisbaum. "We are proud to fight for justice on her behalf and advocate for much-needed accountability from those who violated Ms. Gilliam's civil rights."
Download the lawsuit filing here.
Watch a recording of the press conference here.
ABOUT EVE HILL
Eve Hill has been a leading force in the firm's commitment to civil rights, high-impact LGBTQ+ and disability rights cases and advocacy on behalf of individuals and their families since joining the BGL team in 2017. She co-leads Inclusivity, BGL's Strategic Consulting Group that works to help public and private sector organizations and industry groups navigate the rapidly changing landscape of disability and civil rights. Prior to joining BGL, Eve served as Deputy Assistant Attorney General of the U.S. Department of justice for six years.
ABOUT SHARON KREVOR-WEISBAUM
Sharon Krevor-Weisbaum takes great pride in her role as Managing Partner of Brown, Goldstein & Levy while continuing her active practice on behalf of a varied client base. Clients and colleagues alike recognize Sharon as a trusted advisor willing to share her extensive experience, knowledge of the law, passion, and sense of justice openly and freely. She strives to develop deep client-lawyer relationships that emphasize the unique voice and needs of each one of her clients.
Founded in 1982, Brown, Goldstein & Levy is a law firm based in Baltimore, Maryland, with an office in Washington, DC. The firm is nationally recognized in a wide variety of practice areas, including complex civil and commercial litigation, civil rights, health care, family law, and criminal defense. Above all else, Brown, Goldstein & Levy is a client-centered law firm and has decades of experience bringing passionate, effective advocacy to your fight for justice.
Please find media coverage below
Transgender woman sues Maryland corrections system, alleging she was sexually assaulted and denied hormone treatment while jailed with men | CNN (April 21, 2023)
Lawsuit: Trans woman sexually abused, harassed in men's jail | The Washington Post (April 19, 2023)
Transgender woman files lawsuit saying she was assaulted, denied hormones while jailed in Baltimore |The Baltimore Sun (April 20, 2023)
Lawsuit: Trans Woman Sexually Abused, Harassed in Men's Jail | Associated Press (April 19, 2023)
First, sexual assault; then, confinement: Trans woman details alleged Baltimore jail abuses in lawsuit | The Baltimore Banner (April 19. 2023)
Lawsuit: Trans Woman Sexually Abused, Harassed in Men's Jail | U.S. News & World Report (April 19, 2023)
Trans woman sexually assaulted at knifepoint, denied hormones in male Maryland prison: Lawsuit | Fox News (April 21, 2023)
Activists seek review of gender identity rules at Baltimore jails, citing lawsuits alleging mistreatment of transgender women | The Baltimore Sun (April 27, 2023)
Transgender woman sues over alleged mistreatment in all male jail | WMAR-TV (April 19, 2023)
'I will not be erased': Transgender woman sues prisons for treatment behind bars | WBAL-TV (April 19, 2023)
'Treated like an animal': Transgender woman sues Maryland over assault, abuse in jail | CBS Baltimore (April 19, 2023)
Transgender woman claims abuse in Md. jails, sues state corrections officials| Fox45 News (April 19, 2023)
Transgender woman harassed, assaulted and isolated in Maryland jails, lawsuit alleges | NBC Palm Springs (April 19, 2023)
Lawsuit: Trans Woman Sexually Abused, Harassed in Men's Jail | Now This News (April 19, 2023)
Trans woman sues, saying she was sexually abused in Baltimore men's jail | The Daily Record (April 19, 2023)
Lawsuit: Trans woman sexually abused, harassed in men's jail |The Frederick News-Post (April 19, 2023)
Transgender woman sues Maryland corrections system, alleging she was sexually assaulted and denied hormone treatment while jailed with men | Erie News Now (April 21, 2023)
Lawsuit: Trans woman sexually abused, harassed in men's jail | Dayton Daily News (April 19, 2023)
Trans Woman Sexually Assaulted, Harassed in Baltimore Jail: Lawsuit | Times Daily (April 19, 2023)
Trans woman sues officials over abusive treatment in Baltimore jails | Spot on Florida (April 25, 2023)