April 29, 2022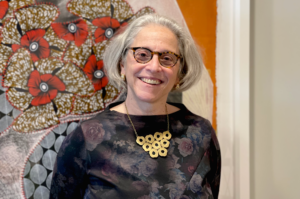 On April 26, 2022, Sharon Krevor-Weisbaum attended I95 Business' fifth annual gathering of women in business, where she was honored along with several other prominent women. Sharon was recently featured as a 2022 Woman of Influence by I95 Business, which focused on successful women in the legal profession. Leading women from across the Maryland region met to celebrate each other's successes and grow their relationships. Murthy Law founder/president Sheela Murthy and Towson University presidential scholar Nancy Grasmick addressed the guests.
Sharon Krevor-Weisbaum takes great pride in her role as Managing Partner of Brown Goldstein & Levy while continuing her active practice on behalf of a varied client base. She remains a passionate and forceful advocate for individuals with disabilities and their families who confront barriers in education, high-stakes testing, employment, housing, and accessing state and federal services and supports.
Sharon was recognized as Best Lawyers' Lawyer of the Year for health care law in the Baltimore area for 2022 and 2021 and has been recognized as a Best Lawyer in America since 2018. She has been a fixture on the Maryland Super Lawyers list every year since 2013 and was named to the Lawdragon 500 Leading Plaintiff Employment Lawyers of 2020. Sharon currently serves as co-chair of the Maryland State Bar Association's Managing Partners Group, a forum for managing partners to share best practices in moving their firms forward. She is also a member of Executive Alliance and serves on its governance committee.
I95 Business is a business-to-business magazine dedicated to connecting successful people, ideas, and entrepreneurship in Maryland's strategic Northeast Corridor.
Read Sharon's feature in I95 Business here.