April 26, 2022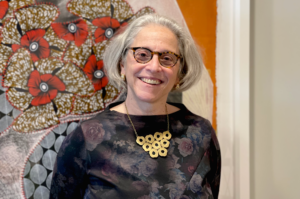 Brown, Goldstein & Levy managing partner Sharon Krevor-Weisbaum was recently spotlighted as a Woman of Influence by I95 Business. The feature, entitled "Managing and Defending: Working Together for Rights," covers Sharon's journey from deciding to attend law school to becoming BGL's first ever managing partner, and how protecting the rights and dignity of people with disabilities has remained central through it all.
Sharon first aspired to help vulnerable individuals as a social worker. However, after her father, (also an attorney) urged her to become a lawyer to help ensure women have more of a voice in the industry, she realized law gave her the opportunity to do both. Despite her father's guidance initially inspiring her to pursue law, being mentored by women already in the industry was paramount for Sharon. She found multiple women mentors at law school and during the 11 years she worked at the Maryland Office of the Maryland Attorney General, where she focused on the regulatory side of health care law.
Now, Sharon often mentors young attorneys and law students, many of whom are concerned with balancing their careers and their families. Sharon believes attorneys shouldn't have to choose one over the other. As managing partner, she is a big proponent for flexibility and ensuring a work/life balance – a key factor for not just recruiting the best talent, but keeping these talented young professionals.
Sharon divides her time between managing the firm's business operations and representing the National Federation of the Blind as well as various community-based health care providers, including pharmacy operators, mental health and substance abuse treatment providers, and health care professionals. While her day-to-day tasks may look different from when she first began practicing law, one thing has stayed the same: "I'm continuing to do the work I've always done. You have to keep fighting the fight for people and enjoy doing so," said Sharon Krevor-Weisbaum, BGL managing partner.
Sharon was recognized as Best Lawyers' Lawyer of the Year for health care law in the Baltimore area for 2022 and 2021 and has been recognized as a Best Lawyer in America since 2018. She has been a fixture on the Maryland Super Lawyers list every year since 2013 and was named to the Lawdragon 500 Leading Plaintiff Employment Lawyers of 2020. Sharon currently serves as co-chair of the Maryland State Bar Association's Managing Partners Group, a forum for managing partners to share best practices in moving their firms forward. She is also member of Executive Alliance and serves on its governance committee.
I95 Business is a business-to-business magazine dedicated to connecting successful people, ideas, and entrepreneurship in Maryland's strategic Northeast Corridor.
Read the full I95 Business feature here.