November 4, 2022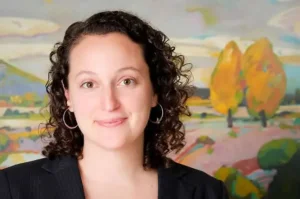 Jessie Weber, partner at Brown, Goldstein & Levy, presented at the 2022 Digital Accessibility Legal Summit (DALS) on November 1. She was one of three people to speak on a panel titled, "A Tale of Two Sagas: Lessons learned from multi-year court cases." Jessie presented alongside attorneys David Ferleger and Kristina Launey.
Jessie's hour-long discussion centered on BGL's long-running and widely followed web accessibility case involving Domino's Pizza. In the Domino's case, Jessie and partner Eve Hill resolved a website and mobile app accessibility case brought by Guillermo Robles, a blind man from Los Angeles, against the company. The groundbreaking case saw the Ninth Circuit reverse a previous district court decision and hold that the Americans with Disabilities Act (ADA) requires businesses like Domino's to make their website and mobile apps accessible to blind customers. Domino's has now confirmed its commitment to maintaining the accessibility of its website and mobile applications to individuals with disabilities.
BGL was also involved in another long-running web accessibility case discussed in the panel: Gil v. Winn-Dixie. In the Winn-Dixie case, Eve and partner Greg Care represented amici the National Federation of the Blind and other disability right groups in a case involving the supermarket chain and Juan Carlos Gil, who is legally blind and prevailed in his trial alleging that Winn Dixie violated the ADA by maintaining an inaccessible website. Greg and Eve's involvement in the appeal of this case helped vacate a harmful decision that would have severely limited the ADA's application to such websites.
The summit was attended by a variety of people dedicated to making information access more equitable, ranging from lawyers and legal resource providers to enterprise IT program managers and government personnel. This year's themes were, "Is it, or isn't it? The People, The Courts, The DOJ and the Applicability of Web Accessibility to the ADA" for the first day and "Emerging Legal Issues in Digital Accessibility" for the second day.
MORE ABOUT JESSIE WEBER
Jessie Weber enjoys helping clients navigate a diverse range of difficult legal issues, with a focus on civil rights, including disability and LGBTQ rights, employment law, including wage and hour cases, and appellate litigation. Jessie's successes include obtaining a $1.25 million settlement for a class of Baltimore City school bus drivers and attendants wrongly denied their full pay, securing an injunction requiring the Maryland Board of Elections to make absentee voting accessible to voters with print disabilities, and winning an arbitration award of more than $250,000 on behalf of an African-American former Hooters server who was fired from her job because of Hooters' racially discriminatory image policy.