January 17, 2023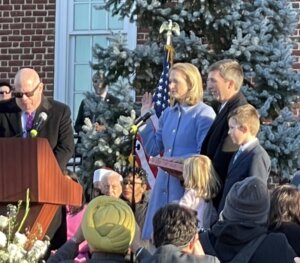 Former Brown, Goldstein & Levy attorney Brooke Lierman was sworn in on January 16th as Maryland's Comptroller.  The swearing in ceremony took place in front of the Treasury Building in Annapolis followed by a festivities at the Annapolis Waterfront Hotel.  The ceremony was memorable, with speakers from different faith communities and several political leaders, including Barbara Mikulski who literally passed Brooke a torch as a leader of the next generation. BGL was proud to sponsor Brooke's celebration with Managing Partner Sharon Krevor-Weisbaum and partner Eve Hill in attendance.
Sharon Krevor-Weisbaum said, "All of us at Brown, Goldstein & Levy are delighted to congratulate Brooke Lierman on being elected the first woman Comptroller in Maryland. We look forward to watching the impact Brooke will have in advancing justice across the State of Maryland."
Prior to her election in 2022, Brooke was a member of the House of Delegates for the state of Maryland, representing District 46 in Baltimore. Additionally, Brooke was an attorney at BGL, where she demonstrated a strong passion for advocacy of clients' civil rights and equal access to justice. As a leading attorney shattering the glass ceiling, BGL was proud to sponsor and honor Brooke's achievement.
Founded in 1982, BGL is a law firm based in Baltimore, Maryland, with an office in Washington, DC. The firm is nationally recognized in a wide variety of practice areas, including complex civil and commercial litigation, civil rights, health care, family law, and criminal defense. Above all else, Brown, Goldstein & Levy is a client-centered law firm and has decades of experience bringing passionate, effective advocacy to your fight for justice.