November 10, 2023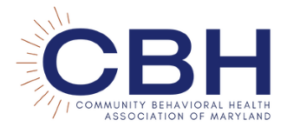 Sharon Krevor-Weisbaum, managing partner at Brown, Goldstein & Levy, attended the Annual Retreat for the Community Behavioral Health Association of Maryland (CBH) on November 8 at the Chesapeake Bay Beach Club. BGL sponsored the retreat, in keeping with our long-standing commitment to supporting this community.
Sharon and BGL colleagues, including partner Andy Levy, have worked with CBH-member organizations through their work in disability rights and advocacy. Sharon is a passionate and forceful advocate for individuals with disabilities and their families who confront barriers in education, high-stakes testing, employment, housing and accessing state and federal services and supports. As part of this work, Sharon represents community-based mental health and addiction service providers—Sharon understands and appreciates the difficult balance her clients must achieve as business entities and service providers.
The Community Behavioral Health Association of Maryland is the leading advocacy organization and professional association for Maryland's community-based behavioral health providers, including both mental health and addiction treatment. CBH envisions a high-quality system of public behavioral health care for individuals and families in Maryland
Sharon takes great pride in her role as Managing Partner of Brown, Goldstein & Levy while continuing her active practice on behalf of a varied client base. Clients and colleagues alike recognize Sharon as a trusted advisor willing to share her extensive experience, knowledge of the law, passion, and sense of justice openly and freely. She strives to develop deep client-lawyer relationships that emphasize the unique voice and needs of each one of her clients. Learn more about Sharon here.
Founded in 1982, Brown, Goldstein & Levy is a law firm based in Baltimore, Maryland, with an office in Washington, DC. The firm is nationally recognized in a wide variety of practice areas, including complex civil and commercial litigation, civil rights, health care, family law, and criminal defense. Above all else, Brown, Goldstein & Levy is a client-centered law firm that brings decades of experience and passionate, effective advocacy to your fight for justice.