November 2, 2023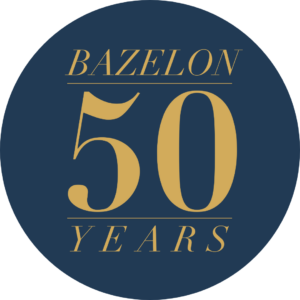 Eve Hill and Jamie Strawbridge recently represented Brown, Goldstein & Levy at the 50th Anniversary of the Judge David L. Bazelon Center for Mental Health Law. The ceremony, hosted in-person in Washington D.C. and live-streamed virtually on October 12, marked the closing of the Center's year-long anniversary celebrations honoring the half a century of work protecting and advancing the rights of people with mental disabilities. The event also recognized extraordinary advocates for Americans with mental disabilities and served as a springboard for the next 50 years of critical disability justice advocacy. Eve is Chair of the Center's Board of Trustees, where she has served since 2017.
Eve is one of the nation's leading civil rights lawyers, known especially for her work with clients with disabilities and LGBTQ+ clients. She has been recognized by Law360 as one of just 12 "Titans of the Plaintiffs' Bar" for 2023, as well as by Lawdragon as one of the 500 Leading Lawyers in America (2022 and 2023). Her wide-ranging experience complements Brown, Goldstein & Levy's decades of dedication to high-impact disability rights cases and its advocacy on behalf of individuals with disabilities and their families. Eve also leads Inclusivity, BGL's Strategic Consulting Group, which works with organizations to promote the education, engagement, and employment of people with disabilities. Learn more about Eve here.
Jamie Strawbridge represents clients in a variety of areas, including civil rights, disability rights, housing discrimination, and commercial litigation. He is especially well-versed in the American with Disabilities Act and has represented both individuals and companies in cases involving discrimination, harassment, police misconduct, contractual disputes, and products liability claims. Jamie's appellate experience includes arguing before the Maryland Court of Special Appeals, drafting appeals in federal and state court, and drafting briefs in opposition to petitions for certiorari before the Supreme Court. Jamie also consults with Inclusivity, where he helps organizations achieve real inclusion of people with disabilities in their workforces and communities. Learn more about Jamie here.
Since 1972, the Bazelon Center has advocated for the civil rights, full inclusion, and equality of adults and children with mental disabilities. The Center uses cutting-edge litigation to effect progressive systemic change and impact public policy, including securing early legal precedents creating basic civil rights for people with mental disabilities—including the rights to a public education, receive services in community-based settings instead of institutions, and make decisions about one's own care.
The Center's mission resonates deeply with the work we do at BGL. As a firm, we are committed to elevating our clients' voices and fighting for the rights of people who have historically, and unjustly, remained unheard. BGL recognizes that people with mental disabilities face barriers in day-to-day life, including in education, employment and housing. We are a national leader in breaking down these barriers and ensuring that all programs and services are fully accessible, as required by the Americans with Disabilities Act.
BGL currently represents 14 unhoused veterans in a lawsuit against the U.S. Department of Veterans Affairs (VA) demanding the VA provide permanent supportive housing on and around its West Los Angeles campus for thousands of homeless veterans who suffer from serious mental illness, traumatic brain injury or post-traumatic stress disorder. The firm is also seeking justice for the family and estate of Ryan Nicholas LeRoux, who was shot 23 times by four Montgomery County police officers while he was experiencing a mental health crisis. The Disability Rights Section of the U.S. Justice Department's Civil Rights Division (Civil Rights Division) filed a Statement of Interest supporting the lawsuit in October 2022.
Learn more about our disability rights practice here.
Congratulations to the Bazelon Center on this remarkable milestone! We look forward to our continued collaboration over the next 50 years. Brown, Goldstein & Levy is proud to advocate for the rights of individuals with mental illness, ensure their stories are told, and work hard to end the stigma for good.
Founded in 1982, Brown, Goldstein & Levy is a law firm based in Baltimore, Maryland, with an office in Washington, DC. The firm is nationally recognized in a wide variety of practice areas, including complex civil and commercial litigation, civil rights, health care, family law, and criminal defense. Above all else, Brown, Goldstein & Levy is a client-centered law firm that brings decades of experience and passionate, effective advocacy to your fight for justice.