February 7, 2023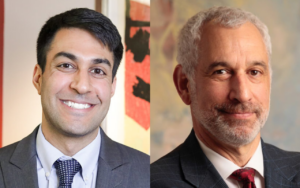 On January 26, 2023, BGL attorneys and proud Stanford Law School alums Neel Lalchandani and Andy Freeman spoke to the Stanford Plaintiffs' Lawyers Association (PLA) about their journeys as plaintiffs' lawyers and their work at BGL fighting for justice for their clients. Their presentation was part of a weeklong event hosted by the PLA.
Neel and Andy were happy to share their experiences and industry insights with students, answer questions, and help mentor the next generation of plaintiffs' lawyers. Among other topics, Neel and Andy discussed their civil rights work, in-court experiences, and how to build a sustainable practice.
The PLA endeavors to build a community of Stanford Law students and alumni dedicated to working on behalf of plaintiffs across an array of practice areas, and showing students that there are more options in their legal career than just big law or nonprofits.
Andy is a partner at BGL and graduated from Stanford Law School with distinction in 1986. While at Stanford, he served as Symposium Editor of the Stanford Law Review. Since then, Andy has earned a reputation of obtaining justice for his clients. He has won numerous verdicts, judgments, and settlements of millions, tens of millions, and in one case over a billion dollars by mastering the relevant law and getting to know his clients, their problems, and the evidence in their cases. His peers chose Andy as the Maryland Trial Lawyer of the Year.
Neel graduated from Stanford Law in 2015. During law school, he represented clients as a student attorney in the Stanford Community Law Clinic, was Co-President of the American Constitution Society, and participated in the Iraq Legal Education Initiative. As an attorney at BGL, Neel represents individuals, nonprofits, and companies in a diverse array of civil rights and commercial matters. Among other victories for his clients, he has helped secure several of the largest payments in Maryland history for victims of police misconduct, including over $15 million in state compensation on behalf of men imprisoned for crimes they did not commit.
Learn more about Andy Freeman here.
Learn more about Neel Lalchandani here.