October 27, 2023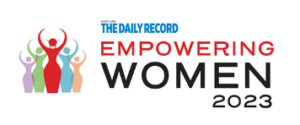 Brown, Goldstein & Levy is proud to be named a 2023 Daily Record Empowering Women Honoree, representing our firm's tangible efforts uplifting women in law and the community. The honor recognizes both our firm's efforts as a whole and the guidance of managing partner Sharon Krevor-Weisbaum, who takes great pride in her role as a leader and mentor at BGL, and as the first managing partner of the firm. At its core, the Empowering Women award recognizes organizations that demonstrate a track record of hiring and promoting women; support programs to mentor women in their organizations and address inequalities; show a strong record of women on the company's board or in C-suite positions; and establish DEI programs and philanthropic efforts to support women. We are proud to continuously celebrate and uplift the vital role that women play in the legal landscape, with particular emphasis on the women in our firm, who make up more than half of the firm's partnership. At BGL, we know that cultivating diverse and inclusive teams leads to our best work on behalf of clients.
BGL was honored at The Daily Record's Women's Leadership Summit on October 25 at the University of Maryland, Baltimore. The event brought together The Daily Record's Top 100 Women, Leading Women, and other Maryland women professionals to attend networking sessions, an exhibit area, and panel discussions. Other honored organizations include the Enoch Pratt Free Library, McDaniel College, the Kennedy Krieger Institute, TEDCO, Salisbury University, and more. The event was also attended by BGL's women attorneys. Partner Chelsea Crawford participated a panel discussion on "Equity in the Workplace" during the summit.
BGL's 11 women attorneys and 16 women professional staff members go above and beyond to bring the highest quality legal services to clients in Maryland, DC, and across the country, full supported by BGL. Our attorneys advance justice across a wide array of cases nationwide—cases that often lie at the intersection of women's rights, LGBTQ+ rights, disability rights, housing rights, and more. Several of our women partners joined the firm as associates and grew into their partner positions through mentoring from the generation of women partners before them.
BGL offers numerous opportunities for professional development across Baltimore and the state of Maryland, and we encourage our women attorneys and staff to attend networking and professional development events. BGL sponsors many of these events, giving generously to women-centered organizations and causes. BGL also prides itself in our engagement in our community—community involvement and commitment to working to improve the lives of our neighbors is deeply ingrained in our firm culture. We remain dedicated to aligning our actions with our firm's historic commitment to social justice, which includes ensuring that all of our women professionals receive strong mentorship and opportunities for advancement.
Learn more about our women attorneys here.
Founded in 1982, Brown, Goldstein & Levy is a law firm based in Baltimore, Maryland, with an office in Washington, DC. The firm is nationally recognized in a wide variety of practice areas, including complex civil and commercial litigation, civil rights, health care, family law, and criminal defense. Above all else, Brown, Goldstein & Levy is a client-centered law firm that brings decades of experience and passionate, effective advocacy to your fight for justice.