March 30, 2023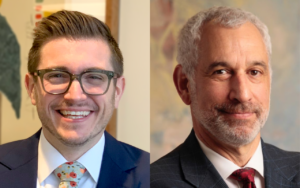 By Anthony J. May and Andrew D. Freeman
In this two-part series, attorneys Anthony J. May and Andrew D. Freeman discuss the status of the Maryland General Assembly's legislative efforts to open a retroactive lookback window that would allow survivors of child sexual abuse to bring lawsuits currently barred by Maryland's statute of limitations. Part I will address the current legal landscape and recent legislative movement to pass the Child Victims Act of 2023, a law that would give survivors a legal right to seek monetary damages from their abusers and the people or entities that enabled the abuse, regardless of how long ago the abuse occurred. Part II will discuss prospective legal challenges to the law, most notably by the Catholic Church, and explain why these challenges are likely to fail.
Part I:  A New Hope – Recourse for Victims of Child Sex Abuse
A day of reckoning for child abusers and the institutions that enabled their abuse is on the horizon.
In February 2023, Circuit Court Judge Robert K. Taylor ordered the release of a 469-page report compiled by the Maryland Office of the Attorney General identifying 158 Roman Catholic priests in the Archdiocese of Baltimore who have been accused of sexually and physically abusing more than 600 victims over the last 80 years. Former Maryland Attorney General Brian Frosh sought judicial approval to release the report in November 2022, explaining that he wanted "[a]ccountability, change and a sense of justice for the hundreds of victims" of the Church's egregious misconduct. Victims, the Church, and the public are all bracing for the report's release: "It's going to be sickening." The impending release of the Attorney General's report has drawn significant media attention and helped to advance years of legislative efforts to provide legal recourse to survivors of child sex abuse.
Meanwhile, there has been increasing recognition that many survivors of child sexual abuse are not psychologically ready to disclose their abuse and confront their abusers until decades after the abuse. Studies have shown that, on average, survivors do not disclose their abuse until they are 52 years old and that survivors are often between 50 and 70 years old when they disclose their abuse. Such delayed disclosure is a symptom of the abuse and should not disqualify older survivors from the compensation they deserve.
On March 16, 2023, the Maryland State Senate voted 42-5 in favor of the Child Victims Act of 2023. If adopted, the bill would eliminate a statute of limitations that currently limits claims for sex abuse survivors to "20 years after the date the victim reaches the age of majority," i.e., the victim's 38th birthday. This year's bill was announced in January 2023 by State Delegate C.T. Wilson, who has been advocating for similar bills for a decade, along with the chairman of the State Senate's Judicial Proceedings Committee, Will Smith of Montgomery County, who was quoted by the Baltimore Sun, stating: "With a keen understanding of the constitutional and legal complexities presented by this issue, it is incumbent upon us as policymakers to ensure that victims of child sexual abuse have access to civil justice."
Maryland is not the first state to enact such legislation. According to Child USA, a nonprofit think tank dedicated to protecting children from abuse, 24 states and 3 territories have passed "lookback" or "revival" windows in some form that have expanded access to courts. In most of those states, the lookback window was opened for only a finite period, typically two-to-three years, after which survivors' window of opportunity to confront their abusers and the institutions that enabled them would close. However, in Maryland, as in Vermont and Maine, lawmakers intend to keep that window open permanently for all claims against all types of defendants.
If adopted in its current form, Maryland's proposed law will allow survivors of child abuse to file claims "at any time" against their abuser and also against "a person or governmental entity" if the person or entity (1) owed a duty of care to the victim, e.g., the victim was a student or member of a congregation; (2) the person or entity "exercised some degree of responsibility" over the abuser, such as through an employment relationship; and (3) the person or governmental entity was grossly negligent in failing to stop the abuse. The law would apply retroactively, meaning that it would not only apply to future victims, but would revive lawsuits for many hundreds, if not thousands, of past victims.
The momentum of support comes from a tide of political change in Maryland. Newly-elected Governor Wes Moore has gone on record supporting an end to the statute of limitations: "I support the bill, because I believe that in order for us to actually truly be able to work towards making it right for that individual and for that victim, that we have to make sure that there are laws that are responsive to the fact that that pain still continues to endure." Attorney General Frosh's successor, Anthony Brown, has also expressed his dedication to defending the legislation, most recently in a letter to the General Assembly.
Some doubt remains among proponents for and advocates against the lookback window. The legislation itself comes with restrictions, such as a damages cap that places a ceiling on the amount victims can recover to $1.5 million from a private entity and $850,000 for a government entity. The biggest concern among bill supporters—largely sexual abuse survivors—however, is the inevitable delays caused by impending legal challenges.
Meanwhile, opposition to the bill continues to mount, largely led by the Catholic Church. The Church has spent millions to oppose statute of limitations laws that would expand access to courts for survivors of abuse. The Maryland Catholic Conference has made no secret of its position on the law, calling it "unconstitutional [and] unfair." Part II of this series will take a deeper dive into the potential challenges the Church may lodge if the legislation is passed and how those challenges are unlikely to hold up in court.
At Brown, Goldstein & Levy, we know it is difficult to recall traumatic memories, let alone discuss them. But even if the assault happened many years ago, you may be able to file a lawsuit for compensation now. Our attorneys have experience with difficult sexual assault cases and have won million-dollar and multi-million-dollar verdicts and settlements in favor of survivors. We maintain absolute confidentiality and will only move forward if and when you are ready to do so. To learn more about our practice and how we help share your story and begin to right the decades of abuse you and others have faced, please contact us today for a confidential consultation.
LEARN MORE ABOUT ANDREW FREEMAN
Andy Freeman obtains justice for his clients. A fellow of the prestigious American College of Trial Lawyers, he has won numerous verdicts, judgments, and settlements of millions, tens of millions, and in one case over a billion dollars by mastering the relevant law and getting to know his clients, their problems, and the evidence in their cases. In one case, Andy won a verdict of $15 million for a survivor of child sexual abuse. In another, he won a $1 million verdict on behalf of a girl who was sexually abused by a lawyer (a result recognized by the National Law Journal as one of the "Top Wins of 2000"), and in a third case, he secured a $1 million settlement from an abuser without having to file suit. Andy has long been a tenacious advocate for the wellbeing of children, both inside and outside of court. He has served as a board member and board president of the Family Tree (formerly the Child Abuse Prevention Center of Maryland) and of the Family League of Baltimore City, and as a board member for Safe and Sound: Baltimore's Campaign for Children, Youth and Families. Andy was also a volunteer with Court Appointed Special Advocates (CASA) of Baltimore, a nonprofit that fights for the best interests of abused and neglected children involved in Baltimore's foster care system, which awarded him multiple CASA Recognition Awards, and he and his wife (the former Executive Director of the Baltimore Child Abuse Center) were Baltimore City foster parents.
LEARN MORE ABOUT ANTHONY MAY
Anthony May has represented clients in a variety of complex litigation matters including assisting employees with disabilities in obtaining accessible technology and accommodations in the workplace, representing individuals who have been wrongfully convicted, commercial litigation disputes, and fighting workplace discrimination based on sexual orientation. He is a passionate and skillful litigator who tirelessly pursues justice for vulnerable individuals. Recently, Anthony helped obtain a federal district court victory on behalf of a married gay employee who challenged a Catholic employer's withdrawal of health insurance benefits for his husband as a violation of Title VII of the Civil Rights Act and the Federal Equal Pay Act.