June 13, 2022
The Washington Lawyers' Committee featured Partner Eve Hill in a video commending her work on Christopher Seaman, et al. v. the Commonwealth of Virginia, et al. Brown, Goldstein & Levy won a Wiley E. Branton Outstanding Achievement Award for her success in the case, which concerned the parents of 12 students with disabilities who filed a lawsuit challenging Virginia Governor Glenn Youngkin's Executive Order 2 and Senate Bill 739.
Youngkin's legislation prohibited schools from requiring students to wear masks under any circumstances in Virginia public schools. However, the plaintiffs have disabilities, such as lung disease and leukemia, that put them at high risk of serious illness if they contract COVID-19. The Court found that the plaintiffs were likely to succeed in proving the law violates the Americans with Disabilities Act and Section 504 of the Rehabilitation Act to the extent the plaintiffs need their peers to wear masks for them to attend school safely. The court also found that the plaintiffs were suffering irreparable harm because their schools were prohibited from considering mask requirements to allow them to attend school safely.
Read more about this case here.
ABOUT EVE HILL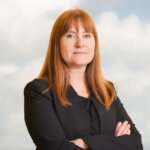 Partner Eve Hill's record of dedication to a wide range of civil rights cases has earned her recognition as one of the country's leading disability rights attorneys. Her practice is dedicated to high-impact litigation on behalf of individuals with disabilities, and individuals, organizations, and agencies alike frequently tap into her wealth of knowledge to advocate on their behalf. Eve also co-leads Inclusivity, BGL's Strategic Consulting Group that works to help public and private sector organizations and industry groups navigate the rapidly changing landscape of disability and civil rights. Prior to joining BGL, Eve served as Deputy Assistant Attorney General of the U.S. Department of justice for six years.