February 3, 2021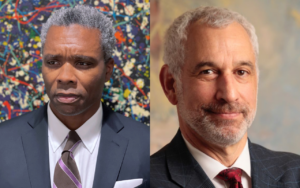 Lawdragon has named two Brown, Goldstein & Levy lawyers, Kobie Flowers and Andy Freeman, to its prestigious 2021 Lawdragon 500 Leading Lawyers in America list, along with others including Stacey Abrams, Sherrilyn Ifill, Merrick Garland, and all nine justices of the Supreme Court.
The annual list recognizes the "best of the best" of the 1.3 million American lawyers. Lawdragon selects honorees across all practice areas based on their leadership in the profession and the impact their work has had over the past calendar year.
In its announcement, Lawdragon notes, "We are proud to introduce the 2021 Lawdragon 500 Leading Lawyers in America. These are the plaintiffs' lawyers and voting rights advocates, litigators and dealmakers who have joined arm in arm to turn the page on hard times.…They won compensation for people wrongfully convicted and imprisoned. And fought for the rights of immigrants and so many others crushed in a cold, cruel winter. But today – even with a blizzard coming – it feels like spring. We're not quite ushering in the Roaring '20s, mind you, but we are hopeful that with the help of the amazing lawyers featured here and the tens of thousands of others considered for this guide, we will emerge. Stronger. Better. More equal."
Congratulations to all the selected lawyers on this distinguished accomplishment!