August 18, 2023

Managing partner Sharon Krevor-Weisbaum has been named to The Best Lawyers in America's 2024 guide for her outstanding work in civil rights law, employment law for individuals, health care law, and professional malpractice law on behalf of defendants. This selection marks the fourth year in a row Sharon has earned this recognition. She has previously been recognized by Best Lawyers as Baltimore's Lawyer of the Year for health care law (2022) and professional malpractice law – defendants (2021).
In hearing this news, managing partner Sharon said: "I am honored to receive this recognition alongside others in our firm who strive each day to provide high quality legal services and personalized attention."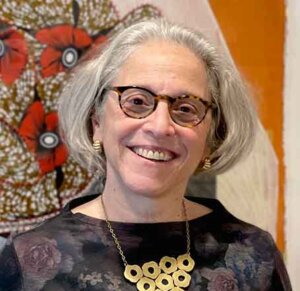 Sharon Krevor-Weisbaum takes great pride in her role as managing partner of Brown, Goldstein & Levy while continuing her active practice on behalf of a varied client base. Clients and colleagues alike recognize Sharon as a trusted advisor willing to share her extensive experience, knowledge of the law, passion, and sense of justice openly and freely. She strives to develop deep client-lawyer relationships that emphasize the unique voice and needs of each one of her clients.
In addition to Best Lawyers, Sharon's lawyering is consistently recognized by Lawdragon and Maryland Super Lawyers. Her dedication to legal practice also extends to her colleagues across the State. Sharon served as co-chair of the MSBA Managing Partners Group, which she and others began in March 2020 as the realities of COVID-19 hit and managing partners had to make immediate, difficult decisions. Since then, she actively helped lead this group until June 2023, when she turned over her role to others. Sharon also currently serves on the governance committee of Executive Alliance and the executives committees of the University of Maryland Carey School of Law Board of Visitors and the Access to Justice Commission. Learn more about Sharon Krevor-Weisbaum here.
Fifteen Brown, Goldstein & Levy attorneys were recognized across the full edition of Best Lawyers this year on the Best Lawyers in America and Best Lawyers: Ones to Watch lists, with two highlighted on the Lawyers of the Year list. Click here for a full list of recognized attorneys.
Best Lawyers is widely regarded—by both the profession and the public—as the nation's most credible measure of legal integrity and distinction. Recognition by Best Lawyers symbolizes excellence in practice. Inclusion in Best Lawyers is based on a peer-review survey of more than 8.2 million confidential evaluations by lawyers recognized as the best in their fields.
Founded in 1982, Brown, Goldstein & Levy is a law firm based in Baltimore, Maryland, with an office in Washington, D.C. The firm is nationally recognized in a wide variety of practice areas, including complex civil and commercial litigation, civil rights, health care, family law, and criminal defense. Above all else, Brown, Goldstein & Levy is a client-centered law firm that brings decades of experience.