November 23, 2022
Chelsea Crawford, partner at Brown, Goldstein & Levy, will join a prestigious group of Maryland lawyers and businesspeople invited to serve on the Transition Team for incoming Attorney General Anthony Brown. In her role, Chelsea will sit on the Steering Committee and will co-lead the Public Safety Policy Team alongside Michael Pinard, co-director of the Clinical Law Program at the University of Maryland Francis King Carey School of Law, and Sonia Owens, special counsel for the Internal Revenue Service.
As part of the Steering Committee, Chelsea will advise Brown as he develops a vision and establishes priorities for his upcoming term, set to begin in early 2023. The Committee will convene regularly to monitor the progress of transition activities and review transition memos prepared by current Office of the Attorney General staff to identify First 100 Day priorities and actions. The Committee will produce a final transition report by the end of February 2023.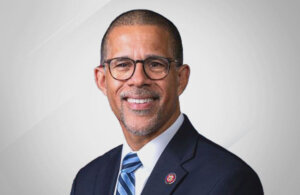 The Transition Team will include the Steering Committee and seven teams focusing on different issue areas: consumer protection, civil rights, public safety, labor, environment, procurement, and equity and ethics. Each team will have two co-leads who are also members of the Steering Committee. Chelsea and the transition team will hold a public forum to allow members of the public to provide input. In addition, Chelsea will meet with relevant individuals and organizations and interview relevant division chiefs and agency principal counsel. The Public Safety Policy Team will transmit a written report in mid-February for inclusion in the financial transition report due to the Attorney General by the end of February.
Other members of Brown's Transition Steering Committee are:
Jason Downs, former chief attorney general in the Washington D.C. Office of the Attorney General.
Larry Gibson, professor at the University of Maryland Francis King Carey School of Law
Betty Hewlett, attorney and the recently retired chair of the Prince George's County Planning Board and the Maryland National Capital Park and Planning Commission. She was recently appointed by President Biden as the commissioner for National Capital Planning Commission.
Timothy Maloney, trial lawyer, close adviser to governors Larry Hogan and Martin O'Malley and member of the Maryland House of Delegates.
Elizabeth Sachs, director of Government Reform and Strategic Initiatives in the office of Baltimore County Executive John A. Olszewski Jr.
Tom Perez, Democratic party primary runner-up and former chair of the Democratic National Committee, Labor secretary for the Obama administration and in Maryland, and as assistant U.S. attorney general for Civil Rights.
The other co-leaders of Brown's policy teams are:
Civil Rights: Tiffany Releford, partner at Whiteford, Taylor & Preston.
Civil Rights: Steven Hawkins, former president and CEO of the US Cannabis Council and former executive vice president and chief program officer of the NAACP.
Consumer Protection: Nicole McConlogue, associate professor and clinic director at West Virginia University.
Consumer Protection: Paul Tiburzi, chair of the State Public Policy and Administrative Law Practice at DLA Piper in Baltimore.
Environment: Edward Gibbs, partner at Gibbs and Haller.
Environment: Melanie Hartwig Davis, a member of the Board of Directors of the Maryland League of Conservation Voters.
Equity and Ethics: Lydia E. Lawless, the Bar Counsel for the State of Maryland.
Equity and Ethics: Caroline Laguerre-Brown, vice provost for Diversity, Equity and Community Engagement for George Washington University.
Labor: Roxie Herbekian, president of UNITE HERE Local 7.
Labor: Joel Smith, counsel at Kahn, Smith & Collins, P.A.
Procurement: Franklin Lee, a partner at the law firm Tydings & Lee.
Scott A. Livingston, co-founder of the law and lobbying firm RWL.
Norman Earl Parker Jr., the assistant deputy Howard County solicitor.
Read more about Brown's transition team here.
More about Chelsea Crawford:
Chelsea Jones Crawford joined Brown Goldstein & Levy in September 2015 and has a growing, diverse civil rights practice, including substantial work in wrongful conviction, police misconduct, and disability rights cases. At Brown, Goldstein & Levy, Chelsea has worked on some of the largest wrongful conviction and police misconduct cases in the State of Maryland. In 2021, she obtained a $6.5 million settlement on behalf of the family of Eric Sopp, an unarmed man in distress who was shot and killed by a Baltimore County police officer. It was one of the largest settlements in State and County history. A former journalist covering daily news, Chelsea brings a passion for storytelling to every case.
PLEASE FIND PRESS COVERAGE BELOW:
"Maryland Attorney General-elect Anthony Brown Announces Transition Team" | WBOC  (November 17, 2022)
"Brown names transition team leaders for civil rights, other policy areas" | The Maryland Daily Record (November 17, 2022)
"Brown fill out transition team with lawyers, insiders" | Maryland Matters (November 17, 2022)