February 15, 2023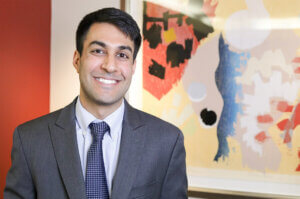 Neel Lalchandani, attorney at Brown, Goldstein & Levy, has been re-appointed as an adjunct faculty member at the Georgetown University Law Center. He currently teaches a semester-long seminar on wrongful convictions, which surveys the problem of wrongful convictions in the United States by exploring their primary causes, discussing the legal landscape of innocence litigation, and considering the moral, ethical and philosophical implications of wrongful convictions for our justice system.
Neel's faculty role at the Georgetown University Law Center complements his work at BGL, where he has helped secure several of the largest payments in Maryland history for victims of police misconduct. Among these payments are over $15 million in state compensation on behalf of innocent men imprisoned for crimes they did not commit. Currently, Neel is part of the legal team representing the Harlem Park Three, a group of Baltimore men wrongfully convicted at age 16 for the 1983 murder of 14-year-old DeWitt Duckett at Harlem Park Junior High. The three men were exonerated after each spending 36 years in prison, collectively serving more years than in any other wrongful-conviction case in the history of the United States. Neel was also recently appointed to the Mid-Atlantic Innocence Project Board to advocate for the wrongfully convicted.
Read Neel's biography on the Georgetown University Law Center website here.
Learn more about Neel's practice at Brown, Goldstein & Levy here.