September 15, 2023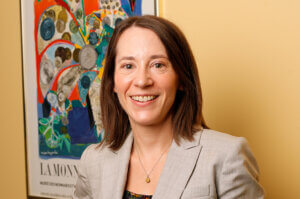 Brown, Goldstein & Levy attorney Monica Basche has been chosen as Volunteer of the Month by the Maryland Volunteer Lawyers Service (MVLS) for her dedication to providing pro bono legal representation to vulnerable Marylanders.
"I think it's important to use my legal knowledge and skill to minimize the potentially harmful impact that the legal system can have on those who come in contact with it, and MVLS is a way of doing just that because it offers assistance to those who are most vulnerable," Monica said.
"I volunteer with the Consumer Protection Project Clinic in the Baltimore City District Court, which provides legal services to those who need assistance with defending, negotiating, settling common debt collection cases, including debt buyers, medical debt, and auto loans. I chose to volunteer with the CPP because I didn't have the capacity to take on an individual case, but I still wanted to find a way to help those in need of legal services. Debt collection cases are common, especially in the wake of the COVID-19 pandemic, and they are often an individual's first interaction with the court. Volunteering with the CPP allows me to help people understand the process and their options and how to make an informed decision on how they want to proceed," Monica continued.
MVLS helps Marylanders facing legal challenges, while also fighting to change systems that harm people living in or near poverty. MVLS accomplishes this through pro bono representation, community engagement, and legislative and administrative advocacy.
At BGL, Monica represents clients in civil rights cases, including disability rights, housing discrimination, employment discrimination, and prisoners' rights. Monica's work has earned her consistent recognition from some of the legal industry's leading organizations, including Best Lawyers, Super Lawyers, and Lawdragon. This year, she was honored as a 2023 Maryland Leader in Law by the Maryland State Bar Association and The Daily Record based on her ongoing dedication to the legal profession and commitment to making Maryland community stronger through her advocacy. In 2021 and 2022, Monica was named as a Top 40 Under 40 Lawyer by The National Trial Lawyers. Learn more about Monica Basche here.
"You really just have to do pro bono work to understand how impactful it is. The clients are so appreciative for your time and assistance. It's like you can see a weight being lifted off their shoulders," Monica said.
Founded in 1982, Brown, Goldstein & Levy is a law firm based in Baltimore, Maryland, with an office in Washington, D.C. The firm is nationally recognized in a wide variety of practice areas, including complex civil and commercial litigation, civil rights, health care, family law, and criminal defense. Above all else, Brown, Goldstein & Levy is a client-centered law firm that brings decades of experience and passionate, effective advocacy to your fight for justice.