September 12, 2022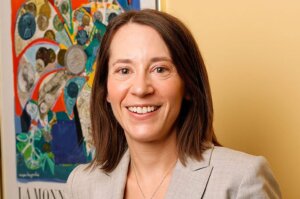 BGL associate Monica Basche has earned a place in three practice areas of the 2023 "Ones to Watch" list of the 29th edition of The Best Lawyers in America. She was recognized in the "Civil Rights Law," "Commercial Litigation" and "Litigation – Labor and Employment" categories. This is the second consecutive year Monica has earned this distinction. The Ones to Watch awards are given to attorneys who are early in their careers, typically between five to nine years in practice, and who have achieved outstanding accomplishments private practice.
Monica Basche joined BGL in September 2019. She represents clients in civil rights cases, including disability rights, housing discrimination, employment discrimination, and prisoners' rights. Monica also has experience with commercial litigation and business disputes.
For the past two years, Monica has been selected to The National Trial Lawyers: Top 40 Under 40 based on her continued dedication and excellence in the legal field. Monica is an active member of the Young Lawyers' Division of the Bar Association of Baltimore City, where she previously served as its Treasurer and as Co-Chair of its Public Service Committee. Monica also serves on the board of Maryland CASA Association, which trains volunteer Court-Appointed Special Advocates to speak up for the best interests of children who are under the protection of the courts.
Fifteen Brown, Goldstein & Levy lawyers were recognized across the full edition of Best Lawyers this year on three different lists: Best Lawyers in America, Lawyers of the Year, and Best Lawyers: Ones to Watch. Click here for a full list of recognized attorneys.
Best Lawyers is widely regarded—by both the profession and the public—as the nation's most credible measure of legal integrity and distinction. Recognition by Best Lawyers symbolizes excellence in practice. Inclusion in Best Lawyers is based on a peer-review survey of more than 8.2 million confidential evaluations by lawyers recognized as the best in their fields. In other words, the best lawyers know who the best lawyers are.