February 22, 2023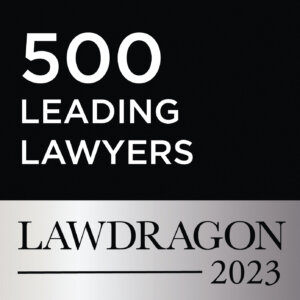 Congratulations to BGL Managing Partner Sharon Krevor-Weisbaum for being selected to Lawdragon's 2023 500 Leading Lawyers in America guide in the "Civil Rights, including Disability" category. In addition to this prestigious recognition, Sharon has previously been named to Lawdragon's inaugural 500 Leading Litigators in America, 500 Leading Plaintiff Employment and Civil Rights Lawyers, and 500 Leading Plaintiff Employment Lawyers lists.
The Lawdragon selection process is highly competitive, performed by a team of professionals with over 100 combined years of lawyer reporting and information business. Selection for the annual Lawdragon Leading Lawyers requires a lawyer to have shown outstanding skills for at least 15 years in practice. Virtually all selected lawyers are partners in their law practice or hold a designation that indicates the regard of those with whom they practice.
Sharon Krevor-Weisbaum takes great pride in her role as Managing Partner of Brown, Goldstein & Levy while continuing her active practice on behalf of a varied client base. Clients and colleagues alike recognize Sharon as a trusted advisor willing to share her extensive experience, knowledge of the law, passion, and sense of justice openly and freely. She strives to develop deep client-lawyer relationships that emphasize the unique voice and needs of each one of her clients.