March 24, 2023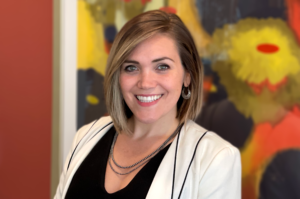 Lauren DiMartino, attorney at Brown, Goldstein & Levy, received an Honorable Mention recognition for an essay submitted to the Federal Bar Association's Hon. Constance Baker Motley Diversity, Equity & Inclusion Young Member Essay Contest.
The essay, titled "Publishing the Way to Diversity and Inclusion in Federal Practice," discussed barriers to scholarly publication faced by underrepresented populations across the country that hinder the development of a more diverse and inclusive federal bar. In her essay, Lauren suggested several specific initiatives law schools and bar associations can take to remove these barriers and support historically-excluded students in their research, writing, editing and submission of scholarly work. Lauren writes that ultimately, these measures can lift both the authors' voices and the voices of the communities from which they come, creating a positive cycle of diversity in legal practice for the future. The Federal Bar Association acknowledged Lauren's sophisticated understanding of the systemic, underlying roots of the challenges of diversifying the practice, and that her writing has enabled the committee to focus its attention toward improvements.
"But inclusion is more than providing access to an inequitable system. Published work not only lifts the voices of its author, but the voices of the communities from which the authors come and whom they write about," wrote Lauren DiMartino.
The essay was written as part of the competition to honor Judge Motley, who became the first African-American woman to serve as a federal judge in 1966. She was also the first African-American woman to argue before the Supreme Court and a lawyer for the NAACP Legal Defense and Education Fund. Judge Motley played a key role in ending racial segregation across the country, leading litigation that integrated universities, schools and parks, as well as litigation that confirmed the rights of minority populations to protest peacefully.
Lauren's essay was judged on thought leadership, originality and creativity, as well as the technical quality of the writing (organization, grammar, syntax and form). Her essay has been published on the Federal Bar Association Diversity & Inclusion blog. You can read Lauren's full essay here.
Congratulations, Lauren!
LEARN MORE ABOUT LAUREN DIMARTINO
Lauren DiMartino joined Brown Goldstein & Levy in 2021 and  primarily represents clients across various areas of civil rights law, including fair housing, education and disability rights, police misconduct, appellate litigation, and workplace discrimination. Lauren's experience has centered on education equity, constitutional law, anti-discrimination, and government misconduct.