April 7, 2022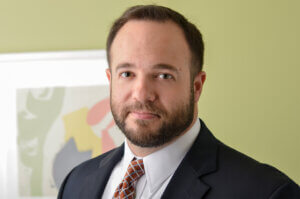 On April 1, 2022, Brown, Goldstein & Levy partner Greg Care spoke during a career preparation event for graduating Doctor of Nursing Practice students at the University of Maryland School of Nursing.
During his presentation, Greg advised students on what to look for and/or avoid when considering the various contract terms many employers offer to nurse practitioners (NPs), including issues regarding employee or independent contractor status, compensation and benefits, "non-compete" clauses, and malpractice insurance. He also provided valuable guidance on licensing matters and how NPs can protect themselves in the event they might face discipline.
For years, Greg has counseled and advocated for students in higher education when preparing for their academic and professional futures. The protection of employees' and students' rights remains a priority for Greg.
Greg represents his clients in a diverse array of civil litigation and appeals, including a variety of employment matters, academic discipline disputes and cases to vindicate the rights of persons with disabilities to pursue independent lives. In every case, Greg tailors his approach to each client's particular situation and goals to achieve the best possible result in the given circumstances – there is no "one-size-fits-all" solution to the unique factors in each case.
Greg was named to the elite Lawdragon 500 Leading Lawyers in America list for disability rights for 2022, placing him among the top attorneys in the nation. Greg has also been listed in the Lawdragon 500 Leading Plaintiff Employment & Civil Rights Lawyers guide each year since 2019 and Maryland Super Lawyers' list each year since 2017. In 2018, Greg received the Daily Record's Leadership in Law award, which recognizes legal professionals who exhibit outstanding dedication to their occupation and to their communities.
Founded in 1982, Brown, Goldstein & Levy is a 20-lawyer law firm based in Baltimore, Maryland, with an office in Washington, DC. The firm is nationally recognized in a wide variety of practice areas, including complex civil and commercial litigation, civil rights, health care, family law, and criminal defense.  Above all else, Brown, Goldstein & Levy is a client-centered law firm and has decades of experience bringing passionate, effective advocacy to your fight for justice.