July 28, 2022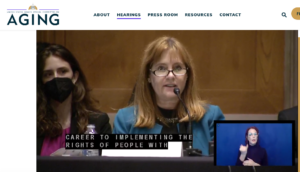 On July 28, Brown, Goldstein & Levy partner and one of the nation's leading disability rights attorneys, Eve Hill testified on accessible federal technology before the United States Senate Special Committee on Aging during its hearing entitled "Click Here: Accessible Federal Technology for People with Disabilities, Older Americans, and Veterans."
During her testimony, Eve offered her insight on the meaning and history of technology accessibility law as it pertains to Section 508 of the Rehabilitation Act, which requires all federal agencies to make all their information technology accessible to people with disabilities. She also addressed areas where government oversight and accountability can be strengthened and best practices for achieving/maintaining web and technology accessibility in the federal government.
A recent third-party report from 2021 found that 30 percent of the most popular federal websites were not accessible and had access barriers on at least one of their most visited pages. Eve outlined six areas where federal agencies need to adjust their use, implementation, and development of technologies to remedy this issue and ensure people with disabilities have equal access to federal services and employment prospects: transparency, up-to-date standards and guidelines, testing, remediation, oversight, and accountability. She also highlighted, that as the world's largest buyer of goods and services, the federal government's $650 billion annual purchasing power has the potential to significantly impact the behavior of developers and suppliers – something virtually no other entity can do.
"In a world in which digital communications and services happen at the speed of light, people with disabilities must not be left to rely on slow, obsolete, and expensive analog technologies," Eve explained in written testimony. "If websites aren't accessible to people who are blind or low-vision, if videos are not captioned for people who are deaf or hard of hearing, and if kiosks are not built to communicate flexibly, people with disabilities are not just inconvenienced – they are shut out."
Without swift and decisive action, explained Eve, Section 508 will not meet its goals and the United States will fall behind other countries in ensuring equality for all.
Watch the recording of Eve's testimony and read a transcript of her remarks here.
LEARN MORE ABOUT EVE HILL
Partner Eve Hill's record of dedication to a wide range of civil rights cases has earned her recognition as one of the country's leading disability rights attorneys. Her practice is dedicated to high-impact litigation on behalf of individuals with disabilities, and individuals, organizations and agencies alike frequently tap into her wealth of knowledge to advocate on their behalf. Eve also co-leads Inclusivity, BGL's Strategic Consulting Group that works to help public and private sector organizations and industry groups navigate the rapidly changing landscape of disability and civil rights. Prior to joining BGL, Eve served as Deputy Assistant Attorney General of the U.S. Department of Justice for six years.