September 23, 2022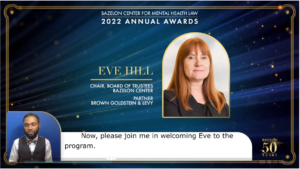 Brown, Goldstein & Levy partner, Eve Hill spoke at the Judge David L. Bazelon Center for Mental Health Law's annual awards celebration on September 22. The virtual event, which BGL was proud to support as a founding sponsor, marked the 50th anniversary of the Bazelon Center's work protecting and advancing the rights of people with mental disabilities while also honoring extraordinary advocates for Americans with mental disabilities. Eve is Chair of the Center's Board of Trustees, where she has served since 2017.
Since 1972, the Bazelon Center has advocated for the civil rights, full inclusion, and equality of adults and children with mental disabilities. The Center uses cutting-edge litigation to effect progressive systemic change and impact public policy, including securing early legal precedents creating basic civil rights for people with mental disabilities—including the rights to a public education, receive services in community-based settings instead of institutions, and make decisions about one's own care.
"I've chosen to dedicate my spare time to working with the Board and staff of the Center, because the Center is truly special. It is brave, smart, creative, and strong. And it does a tremendous amount of work with few resources," said Eve Hill. "I believe the Center has the capacity, with enough resources, to change people's lives in [education, employment, healthcare incarceration, family life, housing, and more.] In fact, to change the world in those areas."
As a founding sponsor, BGL will help the Bazelon Center continue to make a lasting impact. The firm's contribution will be used to help people with mental disabilities live with dignity by providing the Bazelon Center with the resources needed to advocate in the courts and in federal, state, and local legislatures across the country.
Brown, Goldstein & Levy has been recognized as Maryland's leading private law firm for high-impact, public-interest cases for years — including being awarded the Pro Bono Firm of the Year by the State Bar Association. BGL attorneys have handled these challenges in the Supreme Court and most federal appellate circuits, as well as in state courts throughout Maryland and across the country. The firm's partners and associates have also staffed pro bono legal clinics in and around Baltimore, provided pro bono counsel to civil rights organizations like the American Civil Liberties Union of Maryland and served as election poll monitors.