November 3, 2021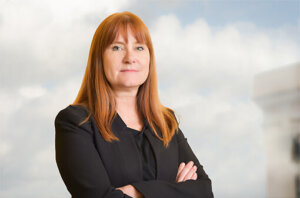 Eve Hill was named to the 2021 Lawdragon 500 leading plaintiff employment and civil rights lawyers guide for employee and civil rights litigation, including disability. This guide, which selects attorneys based on rigorous research, nominations and journalistic vetting, honors top lawyers across the United States who have devoted their careers to representing workers. The selection recognizes extraordinary achievements in cases involving discrimination and other civil rights matters, wage and hour violations and individual employment claims. Eve was previously named one of the 500 leading plaintiff employment and civil rights lawyers nationally by Lawdragon for 2020.
Eve, one of the nation's leading disability rights attorneys, uses her breadth of experience to fiercely advocate for the civil rights of individuals across the nation. Eve's successes include advocating for the right of Americans with disabilities to have equal access to voting, resulting in a consent decree requiring accessible absentee voting permanently for blind voters in Michigan. Her work to make absentee voting accessible to Virginia voters with print disabilities resulted in the Washington Lawyers' Committee awarding its Outstanding Achievement Award to Brown, Goldstein & Levy. She also took on the Maryland Department of Public Safety and Correctional Services for violating blind prison inmates' rights through the Americans with Disabilities Act, resulting in a settlement agreement providing auxiliary aids and services, accessible formats and $1.4 million in damages and attorneys' fee. Additionally, Eve represents John Doe in a lawsuit brought against his employerfor discriminating against him by denying health insurance coverage for his husband.
Eve was recognized by Best Lawyers for civil rights law for 2022. She was also selected to the Maryland Super Lawyers list for both 2021 and 2022. Her many accolades include receiving the Council of Parent Advocates and Attorneys Distinguished Service Award in 2020 and being inducted into the National Disability Mentoring Coalition's Susan M. Daniels Disability Mentoring Hall of Fame in 2018. In 2017, Eve received the Disability Rights Legal Center and the University of La Verne College of Law Award of Excellence. She currently is co-leader of Inclusivity, BGL's strategic consulting group that helps businesses, organizations, government agencies and industry groups navigate the rapidly changing landscape of civil rights and achieve real inclusion of people with disabilities in their workforces and communities. Eve is chair of the Bazelon Center for Mental Health Law's Board of Trustees and a board member of the Gay Men's Chorus of Washington, where she has served both organizations since 2017.
Lawdragon is a legal media company that provides free online news and editorial features, including its well-known guides to the nation's leading lawyers.
Founded in 1982, Brown, Goldstein & Levy is a 20-lawyer law firm based in Baltimore, Maryland, with an office in Washington, DC. The firm is nationally recognized in a wide variety of practice areas, including complex civil and commercial litigation, civil rights, health care, family law and criminal defense. Above all else, Brown, Goldstein & Levy is a client-centered law firm and has decades of experience bringing passionate, effective advocacy to your fight for justice.