April 26, 2023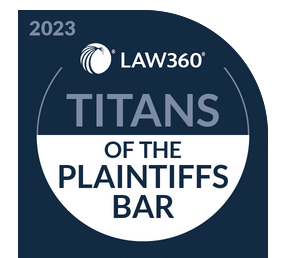 Congratulations to Eve Hill, partner at Brown, Goldstein & Levy, who has been named a 2023 Titan of the Plaintiffs Bar by Law360. She was recognized for her significant wins advocating for the rights of plaintiffs in cases related to civil rights, particularly the rights of people with disabilities. Eve is one of only twelve attorneys to win this recognition nationally.
Eve is one of the nation's leading disability rights attorneys. Her work has produced landmark changes across all areas of disability rights law, including education, employment, and civic access.
In Seaman v. The Commonwealth of Virginia (2022), for example, Eve led a team of attorneys in challenging Virginia Governor Glenn Youngkin's Executive Order 2 and Virginia Senate Bill 739 – which barred schools from requiring students to wear masks – on the grounds that the laws violated the Americans with Disabilities Act by essentially excluding students with disabilities from public schools. In Doe v. Catholic Relief Services, Eve was on a team of BGL attorneys who filed a lawsuit on behalf of a married gay employee against his employer. The lawsuit challenged CRS's withdrawal of health insurance benefits for Mr. Doe's husband because it was a same-sex marriage. Eve also led a team of attorneys from the Southern Poverty Law Center and the Alabama Disability Advocacy Program in in filing a lawsuit in federal court on behalf of the National Federation of the Blind of Alabama against the State of Alabama for denying the federal rights of voters who are blind or have print disabilities.
These cases represent just a fraction of Eve's influence on the civil rights landscape across the United States. Even prior to her tenure at BGL, Eve built her career on advancing disability rights for all. From 2011 to January 2017, Eve served as Deputy Assistant Attorney General of the U.S. Department of Justice, Civil Rights Division, where she was responsible for oversight of the Division's disability rights, education, and Title VI enforcement and the American Indian Working Group. She is the former Senior Vice President at the Burton Blatt Institute of Syracuse University, where she was responsible for the Institute's work on the Americans with Disabilities Act, disability civil rights, and communications issues. Preceding her employment at the Burton Blatt Institute, Eve was the District of Columbia's first Director of the Office of Disability Rights.
Congratulations to Eve on this outstanding achievement! Learn more about Eve's robust practice here.
Read Eve's Law360 feature here.
View the full list of this year's Titans of the Plaintiff Bar here.
Founded in 1982, Brown, Goldstein & Levy is a 20-lawyer law firm based in Baltimore, Maryland, with an office in Washington, DC. The firm is nationally recognized in a wide variety of practice areas, including complex civil and commercial litigation, civil rights, health care, family law, and criminal defense. Above all else, Brown, Goldstein & Levy is a client-centered law firm and has decades of experience bringing passionate, effective advocacy to your fight for justice.