June 14, 2022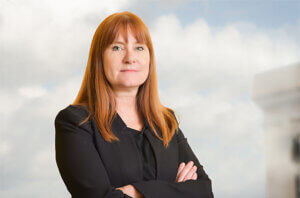 Brown, Goldstein & Levy partner Eve Hill and a team of attorneys from the Southern Poverty Law Center and Alabama Disabilities Advocacy Program filed a lawsuit in federal court on behalf of the National Federation of the Blind of Alabama against the State of Alabama for denying the federal rights of voters who are blind or have print disabilities.
The suit – filed on June 8th, 2022 – contends Alabama's absentee ballot program violates the Americans with Disabilities and Rehabilitation Acts by forcing blind and print-disabled individuals to require another person's assistance in order to complete their ballots, compromising their right to secrecy. Although Alabama law expressly allows voters with disabilities to vote absentee, the ballot is currently only provided in paper form.
"Alabama's current absentee ballot program requires the blind and voters with print disabilities to secure another person's help to read and mark their ballots," said Eve Hill, partner at Brown Goldstein & Levy. "That requirement is unlawful. Alabama has the means and the legal duty to provide ballots electronically to, and accept marked ballots electronically from, voters who are blind or have a print disability."
The suit calls for the Secretary of State to implement an accessible electronic absentee voting program in which voters with print disabilities can access an electronic ballot they can read and mark on their own computers or smart devices using assistive technology, ensuring they have equal say in how their state is governed – as is required by federal law.
LEARN MORE ABOUT EVE HILL
Partner Eve Hill's record of dedication to a wide range of civil rights cases has earned her recognition as one of the country's leading disability rights attorneys. Her practice is dedicated to high-impact litigation on behalf of individuals with disabilities, and individuals, organizations, and agencies alike frequently tap into her wealth of knowledge to advocate on their behalf. Eve also co-leads Inclusivity, BGL's Strategic Consulting Group that works to help public and private sector organizations and industry groups navigate the rapidly changing landscape of disability and civil rights. Prior to joining BGL, Eve served as Deputy Assistant Attorney General of the U.S. Department of Justice for six years.