December 16, 2021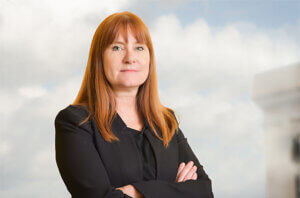 Eve Hill, Brown, Goldstein & Levy partner and chair of the Bazelon Center for Mental Health Law, was recently featured in Bloomberg Law's article, "Covid Can Be a Disability Under Anti-Bias Law, EEOC Says (1)" published on December 14, 2021. The article discusses the U.S. Equal Employment Opportunity Commission's (EEOC) recent ruling that employees who contract COVID-19 can be protected from discrimination under the Americans with Disabilities Act (ADA).
The EEOC guidance clarifies that workers with severe COVID-19 symptoms may qualify for protection under the ADA's three definitions for a disability: physical or mental impairments that substantially limit a major life activity, an employer's perception that a worker has a disability or the worker's record of impairment.
As one of the nation's foremost disability rights attorneys, Eve was not surprised by this ruling. "There's no changes to the law. It's what we've been saying the whole time—that COVID can be a disability," said BGL partner Eve Hill.
Since joining the BGL team in 2017, Eve has been a leading force in the firm's commitment to civil rights, high-impact disability rights cases and advocacy on behalf of individuals and their families. She co-leads Inclusivity, BGL's Strategic Consulting Group that works to help public and private sector organizations and industry groups navigate the rapidly changing landscape of disability and civil rights. Prior to joining the firm, Eve served as Deputy Assistant Attorney General of the U.S. Department of Justice for six years.
Learn more about Eve Hill's extensive experience in disability and civil rights by clicking here.