July 27, 2022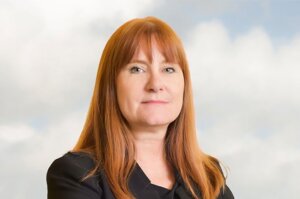 On July 26, Partner Eve Hill represented Brown, Goldstein & Levy at a celebration at Vice President Kamala Harris' residence in honor of the 1990 signing of the Americans with Disabilities Act (ADA).
Eve was proud to join the Vice President, lawmakers, fellow attorneys and disability advocates from across the nation in acknowledging the impact this momentous civil rights legislation has had over the past 32 years. Guests also had the opportunity to connect with each other as they focused on the work still to be done to ensure all individuals are treated equally before the law.
At BGL, we know people with disabilities continue to face barriers to information, technology, housing, education, employment and transportation. Our firm is an award-winning leader in breaking down these barriers and fighting in court for the rights of people with disabilities across the nation. For decades, our attorneys have worked in partnership with the National Federation of the Blind and other disability-led organizations to ensure that programs and services offered by private companies and government alike are fully accessible to individuals with disabilities—as required by the ADA and other federal and state laws. We take immense pride in our high-profile, high-impact disability rights cases, which our experienced attorneys litigate in trial and appellate courts across the country. We also take immense pride in our representation of people with disabilities and their families. Through our work, Brown, Goldstein & Levy has been awarded the Tier 1 ranking in Baltimore Civil Rights Law in the "Best Law Firms" category listed by U.S. News & World Report and Best Lawyers.
BGL also works hard to increase awareness and expand equitable opportunities for future attorneys with disabilities through our Disability Rights Fellowship. Started in 2009, this highly competitive fellowship is available to recent law school graduates with a disability who have one to three years of legal experience. We are proud to have had eight fellows work with our attorneys over the program's 13-year history. Read more about our Disability Rights Fellowship here.
We are proud to continue working to expand disabilities rights for our clients. BGL looks forward to continuing our representation and support through Disability Independence Day. If you wish to read more about our highlighted cases and attorneys focused on advancing the rights of Americans with disabilities, you can view them under our Civil Rights – Disability Rights page.
learn more ABOUT EVE HILL
Partner Eve Hill's record of dedication to a wide range of civil rights cases has earned her recognition as one of the country's leading disability rights attorneys. Her practice is dedicated to high-impact litigation on behalf of individuals with disabilities, and individuals, organizations and agencies alike frequently tap into her wealth of knowledge to advocate on their behalf. Eve also co-leads Inclusivity, BGL's Strategic Consulting Group that works to help public and private sector organizations and industry groups navigate the rapidly changing landscape of disability and civil rights. Prior to joining BGL, Eve served as Deputy Assistant Attorney General of the U.S. Department of Justice for six years.