October 21, 2022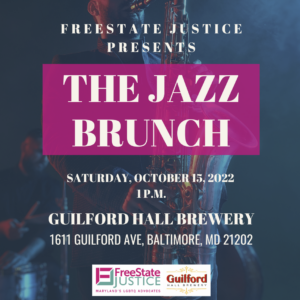 Partner Jessie Weber recently attended FreeState Justice's annual Jazz Brunch, which Brown, Goldstein & Levy was proud to sponsor. The October 15 event was hosted at Guilford Hall Brewery in Baltimore. The Jazz Brunch brings together FreeState supporters from across Maryland to celebrate and support FreeState Justice's critical work protecting and advancing the rights of Maryland's LGBTQ+ community.
FreeState Justice is the only statewide LGBTQ+ advocacy organization in the United States that combines direct legal services and policy advocacy to serve the needs of LGBTQ+ communities. The organization provides legal services to LGBTQ+ clients with in-house counsel and pro bono attorney networks. It also works toward systemic law and policy change through governmental advocacy, provides educational training to Maryland lawyers and judges about LGBTQ+ needs, and conducts outreach activities to promote self-advocacy within the LGBTQ+ community.
Brown, Goldstein & Levy is committed to advancing LGBTQ+ rights – a mission that extends beyond our work as litigators. We have partnered with FreeState Justice to provide pro bono representation to transgender individuals seeking name changes and decrees of legal gender identity. We were proud to work with FreeState Justice to secure asylum for two gay men from Central America fleeing persecution. Brown, Goldstein & Levy has also partnered with FreeState Justice on several employment and health care discrimination cases.
Jessie, who enjoys helping clients navigate a diverse range of difficult legal issues, served on FreeState Justice's board from 2013 until this past spring. She previously served as Board President from 2015 through 2018. Jessie also serves on the board of Disability Rights Maryland and on the ACLU of Maryland's Committee on Litigation and Legal Priorities. She was previously a member of the ACLU of Maryland's board. Jessie is known for her groundbreaking work obtaining equal access for individuals with disabilities to voting, websites, and government information and services. She is well versed in both complex litigation and negotiations and enjoys using a range of tools to obtain justice for her clients.