October 12, 2023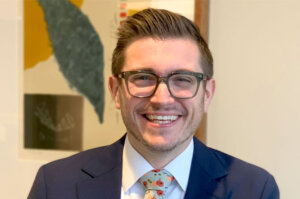 Brown, Goldstein & Levy attorney Anthony May moderated an online panel discussion about career paths for LGBTQ+ law students and young attorneys, hosted by the Federal Bar Association's LGBTQ+ law section on September 29.
The webinar was comprised of a diverse group of legal practitioners, including board members of the Federal Bar Association's LGBTQ+ Law Section. In addition to Anthony, panelists included Donahue Fitzgerald partner Mario Choi, Scanlan Griffiths + Aldridge managing partner Kevin Griffiths, and Meta Tax Policy Manager Jacob Puhl.
Presenters discussed their backgrounds, career paths, and their current roles. They also provided perspectives on what it means to be an LGBTQ+ legal practitioner and their involvement with and in the LGBTQ+ community. Panelists shared their experience from an array of practice areas including public interest, civil litigation, and tax law.
"It was an honor to moderate this panel. As an LGBTQ+ rights advocate, and an LGBTQ+ attorney myself, I am passionate about uplifting the next generation of attorneys who are part of this community," said Anthony. "It was exciting to hear about how the panelists used their passion for civil rights to carve out their career path. I can certainly relate to that, and I hope those who watched the panel feel inspired to do the same."
Anthony represents clients in a variety of complex litigation matters, assisting employees with disabilities in obtaining accessible technology and accommodations in the workplace, representing individuals who have been wrongfully convicted, those who have been discriminated against by the use of AI technology in the workplace, commercial litigation disputes, and fighting workplace discrimination based on sexual orientation. He is a member of the LGBTQ+ Maryland Bar Association.
Anthony has earned some of the legal industry's top accolades. He was selected to Lawdragon's 500 Leading Civil Rights and Plaintiff Employment Lawyers and Lawdragon's 500 X – The Next Generation guides for 2023. Anthony was also named a Maryland Rising Star by Super Lawyers and "One to Watch" by Best Layers in America for the fifth and third consecutive year respectively. In July, Anthony – considered an authority in the growing intersection of AI and employment discrimination law – presented on the potential discriminatory impacts of using AI in the workplace at the 2023 Maryland State Bar Association Legal Summit.
Learn more about Anthony May here.
Founded in 1982, Brown, Goldstein & Levy is a law firm based in Baltimore, Maryland, with an office in Washington, D.C. The firm is nationally recognized in a wide variety of practice areas, including complex civil and commercial litigation, civil rights, health care, family law, and criminal defense. Above all else, Brown, Goldstein & Levy is a client-centered law firm that brings decades of experience and passionate, effective advocacy to your fight for justice.