July 10, 2020
The Washington Lawyers' Committee has awarded its Outstanding Achievement Award to Brown Goldstein & Levy and Disability Rights California for our hard work on behalf of people who are blind.
Each year, hundreds of thousands of blind Americans attempt to use Social Security check-in kiosks, yet these touchscreen devices are completely inaccessible to them. Blind visitors are prevented from checking-in independently at their local Social Security Administration (SSA) office, forcing them to divulge private information, such as their social security numbers, to SSA staff or other sighted third parties.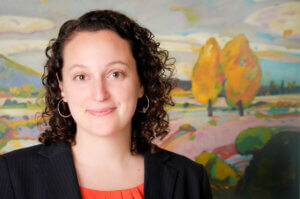 To end this dangerous practice, attorney Jessie Weber at Brown, Goldstein & Levy, together with Disability Rights California and the Washington Lawyers' Committee, filed suit on behalf of two blind individuals and the National Federation of the Blind against the SSA for their failure to make these kiosks accessible.
This year, we reached a court-ordered settlement requiring SSA to work with a third-party kiosk accessibility expert to ensure kiosks are redesigned to provide an equal opportunity for blind users and to train its staff on the nonvisual use of its kiosks. The SSA will work collaboratively with the National Federation of the Blind on outreach efforts and report to the NFB on the redesign status.