April 7, 2021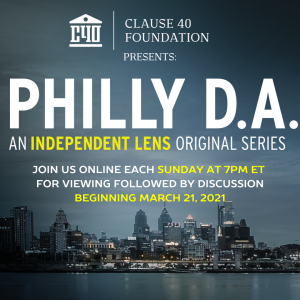 On April 11th, 2021 at 7 pm ET, Kobie Flowers will moderate a Panel on "Transforming Prosecution, Part 3: Keeping Communities Safe, Supporting Survivors of Crime" hosted by Due Process Institute's sister organization, Clause 40 Foundation.
About Event
Philly D.A. is a documentary series embedded inside the tumultuous first term of Larry Krasner, Philadelphia's reform-minded District Attorney, and his experiment to upend the criminal justice system from the inside out. In this episode: Larry Krasner campaigned on a historic pledge to end capital punishment in Philadelphia. His promise is put to the test when a police sergeant is murdered. Krasner faces pressure from the police union, the slain officer's family, and his own District Attorneys to pursue the death penalty.
The event begins with an online advance screening of the third episode of Philly D.A at 7 pm ET this Sunday, April 11 (for free and before you can watch it later this month on your local PBS station.) Then, join us after the screening for our Panel of experts, moderated by Kobie Flowers, who will discuss how to reconcile making major reforms to our current carceral model while simultaneously protecting public safety and meeting the needs of those who have been impacted by crime.
Panelist
This week join Sajid A. Khan (San Jose Public Defender, co-host of the Aider & Abettor podcast), Kate Brubacher Murphy (Assistant Prosecuting Attorney and Director of the Innovative Prosecution Solutions Grant, Jackson County), Kobie Flowers (civil rights attorney/criminal defense lawyer, Brown Goldstein & Levy), and Marc Levin (Chief Policy Counsel, Council on Criminal Justice) discuss new approaches for our criminal legal system.
Watch Panel I: Transforming Prosecution–What Does That Even Mean?
Watch Panel 2: Addressing Police + Prosecutorial Misconduct