November 28, 2022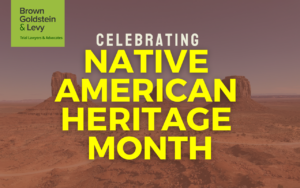 In honor of Native American Heritage Month, Brown, Goldstein & Levy's Diversity and Inclusion Committee hosted a November 22 discussion centered on Haaland v. Brackeen, the Indian Child Welfare Act case currently being heard by the Supreme Court. Staff and attorneys also heard from author Brendan Basham, who is currently teaching at Johns Hopkins University and the Institute for Indian American Arts, who provided some cultural context and read a chapter from his forthcoming debut novel, Swim Home to the Vanished, which is rooted in his Diné tradition and culture.
The BGL team was honored to listen to Brendan's reading, learn about his experience growing up in and around Navajo Nation, and hear his perspective on Haaland v. Brackeen. The intricacies of the case and the impacts it could have on the Native American community provided meaningful discussion for attorneys and staff alike, and all left the meeting feeling inspired and better equipped to fight for equal rights and representation for Indigenous peoples.
Brown, Goldstein & Levy holds itself to the highest standards of inclusion in all our work. We believe that celebrating diversity, inclusion, and accessibility, including the provision of reasonable accommodations, fosters a collaborative, creative environment in which every person can use their strengths to their fullest and achieve the best results for our clients. This month and every month, BGL is proud to celebrate the essential and rich contributions of Native communities across the United States. Our firm is committed to ensuring that the voices of Indigenous peoples are heard.
Learn more about Brown, Goldstein & Levy commitment to meaningful diversity, equity, and accessibility here.