November 17, 2023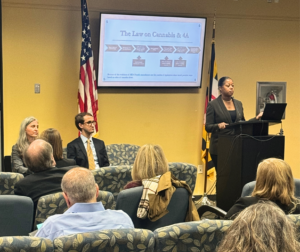 Attorney Michele Hall spoke about Maryland's new cannabis laws and their impact on federal practice at the Office of the Federal Public Defender for the District of Maryland's Criminal Justice Act Panel Training Program on November 17 in the U.S. District Court for the District of Maryland.
Also on the panel with Michele were Assistant Federal Public Defenders for the District of Maryland, Joanna Silver and Cullen Macbeth. The Office of the Federal Public Defender for the District of Maryland holds this half-day bi-annual training session in May and November of each year.
"As criminal defense attorneys, it's critical that we remain at the forefront of legislation affecting Maryland residents," said Michele. "After working closely with Maryland legislators and advocates last session to pass important cannabis reforms, I appreciate the opportunity to discuss the State's new cannabis laws with Assistant Federal Public Defenders Silver and Macbeth to help ensure the legal community is best equipped to ensure justice, fairness, and dignity for all."
In 1964, the Criminal Justice Act was enacted to establish a comprehensive system for appointing and compensating lawyers to represent defendants financially unable to retain counsel in federal criminal proceedings. The CJA authorized reimbursement of reasonable out-of-pocket expenses and payment of expert and investigative services necessary for an adequate defense. Federal defender organizations, together with the more than 10,000 private "panel attorneys" who accept CJA assignments annually, represent the majority of individuals who are prosecuted in our nation's federal courts.
ABOUT MICHELE HALL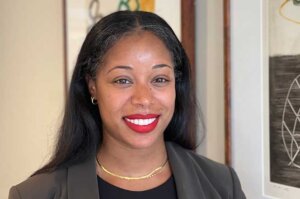 Michele D. Hall joined Brown, Goldstein & Levy in October 2023. She previously served for five years as a public defender at the Maryland Office of the Public Defender. During her time at OPD, Michele worked as a trial and appellate attorney. As a trial attorney, Michele represented children in Prince George's County charged in juvenile court and children charged as adults. As an appellate attorney, Michele worked on general criminal appeals and focused on statewide juvenile appellate strategy. She regularly argued before both the Appellate Court of Maryland and the Supreme Court of Maryland. In addition to her case work, Michele was an advocate for ending the school-to-prison pipeline. Learn more about Michele here.
Founded in 1982, Brown, Goldstein & Levy is a law firm based in Baltimore, Maryland, with an office in Washington, D.C. The firm is nationally recognized in a wide variety of practice areas, including complex civil and commercial litigation, civil rights, health care, family law, and criminal defense. Above all else, Brown, Goldstein & Levy is a client-centered law firm that brings decades of experience and passionate, effective advocacy to your fight for justice.