November 22, 2022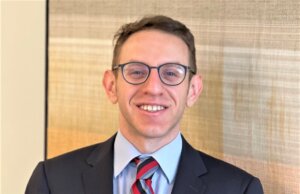 Jason Harary attended the 2022 Annual Rights Conference for the National Association for Rights Protection and Advocacy (NARPA) from October 26 through October 29. NARPA's mission is to is to protect the rights of people with psychiatric diagnoses and support them in ensuring autonomy, dignity, and choice.
Jason attended several workshops throughout the three-day conference, including ones about the impact of private equity ownership on psychiatric residential treatment facilities and another on non-police responses to people suffering mental health crisis.
Jason Harary joined Brown, Goldstein & Levy in November 2021 with a desire to protect the rights of vulnerable individuals. He represents clients in a diverse array of civil rights issues, including disability rights, housing discrimination, employment discrimination, and the rights of people behind bars. Jason's practice also includes appeals and criminal defense. Before joining the firm, Jason worked as a Dunn Legal Fellow at the ACLU of Virginia.