October 25, 2022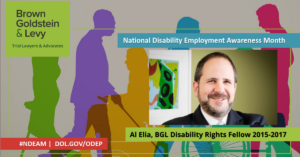 Al Elia was BGL's Disability Rights Fellow from 2015 to 2017. He joined the National Federation of the Blind (NFB) in 2007 and decided to attend law school in order to pursue NFB legal work. After connecting with BGL founding partner Dan Goldstein and learning about the BGL Disability Rights Fellowship, Al entered law school hoping to become a fellow upon graduation. That aspiration was further stimulated by BGL managing partner Sharon Krevor-Weisbaum, who encouraged him to apply for the fellowship after they worked together on a disability accessibility case while Al was a legal intern in the Civil Rights Division of the Massachusetts Attorney General's Office.
In addition to the professional relationships he formed with Sharon and Dan, Al was drawn to BGL because he knew the firm worked with the NFB to advance and protect the rights of blind and visually-impaired individuals. As a member of the NFB, this mission was – and remains – close to his heart. Additionally, Al hoped to gain experience in a variety of practice areas. He achieved this goal, working on a diverse range of cases, including those covering disability rights, criminal fraud, Title IX defense, commercial litigation, and more throughout his two years at BGL. One such case involved Yasmin Reyazuddin, a legally blind customer service representative for Montgomery County Health Department's Health and Human Services who sought BGL's representation in a disability employment matter.
After the fellowship, Al joined TRE Legal as an attorney litigating cases involving technology accessibility. He currently works closely with partner Eve Hill at Inclusivity, BGL's Strategic Consulting Group. Here, Al combines his knowledge of the technology industry with his legal acumen as he advises organizations regarding their obligations and proposes best practices with respect to persons with disabilities as customers, patients, employees, and recipients of benefits and services. He also authors proposals for advancing disability rights through policy and legislation. Al also lectures on digital accessibility and the law. Most recently, he lectured on and led a discussion of accessible technology and the law for a PhD-level seminar at Cornell University, covering current and proposed future legal obligations of businesses, health care providers, and governments; access requirements for technology in public and private spaces; and access concerns and potential solutions for nascent technologies.
Al's advice to future fellows is to take advantage of all the various experiences and opportunities BGL has to offer, learn from as many partners as possible, and ultimately determine your jumping off point of focus.
"Realize that you are with a firm where you can gain much more experience than just civil rights," said Al.
Learn more about Brown, Goldstein & Levy's Disability Rights Fellowship here.