December 17, 2021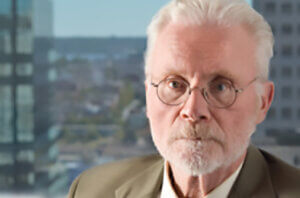 Charles Christopher Brown was born in Dover, Delaware, the oldest of three children. His father was a surveyor and his mother a part-time teacher. As a kid he was fascinated by stamps and baseball, with his favorite team the Philadelphia Athletics. In his own small town – and on the nearby eastern shores of Delaware and Maryland – he bore witness to the cruelty of segregation and was deeply disturbed by the prevalence of racial injustice and violence. It was something that would drive the trajectory of his life.
Chris left Dover for Swarthmore College in 1959 and, as he later described, felt overwhelmed by the other students, whom he thought were smarter and more sophisticated than he was. He compensated by working harder than almost anybody else and became an exceptional student. At the same time, he started to develop a strong social conscience, and became interested in the civil rights movement.
After graduating from Swarthmore, he went to the University of Delaware for a master's degree in political science. There, he met the love of his life, an undergrad from Glens Falls, New York, named Leslie Jane Davis. Leslie spotted him in a government studies class and was drawn to his intellect, commitment to activism, and quiet confidence. She thought that someday he would become a U.S. Senator (and a member of the class did so, but it was someone named Joe Biden, not Chris!). Chris and Leslie immediately hit it off and were married the following year – while still students at Delaware.
Chris's desire to get involved in politics led him to enroll at Georgetown University Law School in 1965. He quickly took to the study of law and would spend late nights reading and writing in the small Capitol Hill apartment he shared with Leslie. As he learned more and more about the law, his interest shifted, and he became focused on poverty law – helping to secure the rights of those left behind by society. He was a quiet and sometimes shy student. When grades were released at the end of his first year, the other students were shocked to see that Chris had finished first in the class. He was named Editor-in-Chief of the Georgetown LawJournal, a position that occupied much of his time and energy the next two years.
After law school, and after the birth of his first child, Adrian, Chris served as the motions law clerk for the U.S. Court of Appeals for the D.C. Circuit, a position which gave him the opportunity to work with all of the judges on the court, though he particularly admired  two of those judges: Skelly Wright and David Bazelon. This clerkship experience forged his view of the law and taught him how litigation could shape real-world policies. After his clerkship, Chris eschewed several offers to join big law firms and instead took a fellowship that allowed him to litigate on behalf of indigent tenants in D.C. His supervisor was a firebrand attorney named Florence Roisman, who became his mentor and life-long friend. Following his fellowship, he worked for Legal Services and had his second child, Justin. In 1971 the family moved into a stone house in the Guilford neighborhood of Baltimore, where they would live for the next 20 years.
In Baltimore, Chris worked for Legal Aid and was instrumental in building the organization into a formidable fixture in the Baltimore legal landscape. He formed many life-long friends during this period, as he and Leslie became enmeshed in the Baltimore community. At Legal Aid he also began to focus his efforts on high-impact litigation that could help advance the civil rights movement. He started to be known as an excellent attorney – and a champion of the underdog.
In 1975, Chris joined the faculty of the University of Maryland School of Law. He taught civil procedure, evidence, constitutional law, and various legal writing courses. He carved out a unique position at the law school as a professor who also maintained an active law practice.
When Chris was 35, just after becoming a professor, the U.S. Supreme Court granted cert in one of his cases: Norton v. Mathews, which was docketed with a related case, Mathews v. Lucas. When the attorney for Lucas got cold feet the week before arguments, Chris agreed to handle both cases, each of which sought to win social security benefits for "illegitimate" children, that is, children born to parents who weren't married. But he almost never made it to court. The morning of oral arguments – unbeknownst to him until the last minute – the family car had been towed. He calmly walked to a neighbor's house, knocked on the door, and asked if he could borrow her car to drive to Washington for the day. At the Supreme Court, upon the calling of Norton, Chris surprised Chief Justice Burger by proposing – on the spot – that the two cases be consolidated for two hours of argument. The Chief Justice agreed to restructure the docket. Unfortunately, Chris lost both cases.
He was not deterred by his result before the Supreme Court. His legal career blossomed back in Baltimore, where he took on high-profile cases, sometimes teaming up with the ACLU, and maintained a steadfast focus on helping poor people. He scored dozens of victories that advanced the rights of minorities in the areas of voting rights, disability rights, housing, free speech, sexual orientation, the right to die, and other many other progressive causes.
His greatest passion as a lawyer, however, was focused on the Eastern Shore. Still haunted by his childhood memories of being a bystander to discrimination and violence against Blacks, he was determined to effect change. He partnered with local leaders and, over the years, filed myriad lawsuits to help secure voting and other rights for Black Marylanders living on the Shore.
In 1982, while still teaching at the law school, he started a small law firm with his officemate, Daniel Goldstein. Brown & Goldstein gave Chris a platform to take on new challenges while maintaining a steady presence at the law school. Today, the firm, now known as Brown, Goldstein & Levy, has grown to more than twenty lawyers and litigates civil rights case all over the country. Chris also worked closely with the ACLU of Maryland, where for years he was chief counsel and handled some of its most important cases.
As Chris's legal career progressed, he became known for his even temperament and cordial style. He won dozens of prestigious honors – including admission as a Fellow of the invitation-only American College of Trial Lawyers – but was too modest to ever mention them. He often took on complex cases and handled them by himself, not relying on associates to research and write for him. He was an honest lawyer who did not pick fights with other lawyers or attract enemies. He was a go-to for questions of legal ethics and was sometimes hired as an expert witness to testify about proper conduct for an attorney. As a professor, he trained hundreds of would-be lawyers who went on to become judges, politicians, and partners at some of the best firms in America.
He also managed to see much of the world over the course of his life. Chris was a willing partner in Leslie's ambitious – and sometimes grueling – travel plans. Together they traveled extensively in every continent. His travels were not limited to typical tourist destinations; he visited Bosnia in 1998, and in 2001 he snuck into Cuba through Jamaica.
Although Chris came a long way from his humble beginnings, some things about him never changed. There was no food he liked more than a fresh ear of silver queen corn. He was most at peace when he was working in his vegetable garden. He preferred body surfing to any other water sport and would sometimes get lost when he emerged from the ocean without his glasses. Given a choice of any seat from which to watch his beloved Orioles, he would choose section 34 of the old Memorial Stadium. He never cared for fancy cars or fancy clothes; his favorite thing to wear was a threadbare Oberlin sweatshirt that his daughter Adrian gifted him one year for Christmas.
In his last few years practicing law, even after being diagnosed with Parkinson's Disease, Chris wrote a book called "The Road to Jim Crow," telling the story of Black people on the Eastern Shore during reconstruction. The book was one of his proudest accomplishments, and he delighted in presenting signed copies to friends new and old.
In 2019, he was devastated by the unexpected loss of his wife, Leslie. Even so, Chris continued to look for new challenges. His work continued through the last months of his life. He persistently researched and drafted chapters for a second book, intended to pick up where his first book left off; he supported and advised his son Justin in his efforts to start Project 6, a non-profit serving prisoners; and he tried to keep up with the hectic lives of his four grandchildren.
He was cared for up to the end by his family – and by his loyal team of health aides, whom he embraced just like family. He is survived by his children, Adrian Brown and Justin Brown, and their spouses, Kurt Roggendorf and Kristen Brown; his brother, Nicholas Brown; his sister Sally Brown; and his grandchildren, Sabria Roggendorf, Hana Roggendorf, Oscar Brown, and Annabel Brown.
The family respectfully asks that, in lieu of flowers or food, donations be made to Project 6, a non-profit serving wrongfully convicted and over-sentenced prisoners in Maryland, at www.project-6.org.